Introducing the Mighty Genie Pack
Seven boxes, multiple magical possibilities
Fluid is super excited to introduce to you, the Mighty Genie Pack, your all-in-one solution for promotional gift packs and custom packaging.
Every one of the seven boxes are UK manufactured from high-quality FSC certified card, available in white or kraft, and all Genie packs are collated and decorated in the UK. Packaging options are offered with six branding methods from spot to full colour, all completed in the UK to ensure speed of service and precision printing.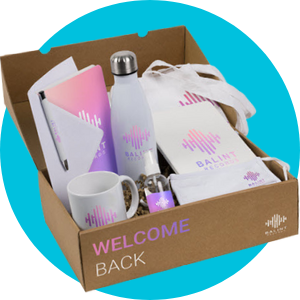 1) Products:
We have hundreds of high-quality products to choose from, start browsing today.
2) Box
Select your box size suitable to hold your products.
3) Branding
We offer an unrivalled array of branding methods on our products and packaging. Individual personalisation also available.
4) Optional extras
Add an extra touch by including a personalised cover letter or mailer.
5) Collation
Packs are assembled carefully and prepared for delivery.
6) Delivery
Choose your delivery method from standard bulk delivery to split deliveries, drop shipping and international shipping.
In need of some inspiration?
No problem. We've already created a comprehensive portfolio of Mighty Genie Pack concepts for you to take some inspiration from. Spanning across a range of popular themes, our ready-made boxes include: Back to Work, Student, Well-being, Thank You, Sustainable, Hospitality, Virtual Conference, Travel, Golf, and Festive packs.
Get in touch today!
Whether you have a pack already in mind, or simply want to explore your options, our expert teams are on hand to help you every step of the way. Fill out some details in the form below, we'll be in touch shortly!