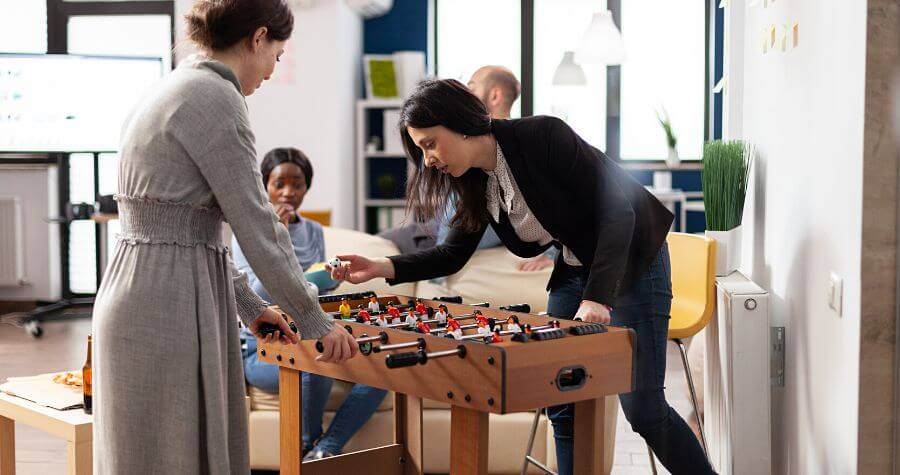 With the World Cup just around the corner and the rugby 6 Nations early next year, it's never been a better time to get into the sporting spirit during office hours - yes, during!
Usually, we all try to avoid distractions during the working day. However, encouraging sporting activities within the workplace can actually increase your team's overall well-being.
Studies have shown that daily physical activity reduces stress and depression in participants by up to 30%. By celebrating a love of sports within an office environment, you're boosting employee engagement and motivation. This makes for a happier and healthier team that'll reap the rewards in no time.
But, we know it can be hard to find the right balance between fun and work within the office. That's why we wanted to share these 8 tips with you for getting your team in the sporting mood, whilst still achieving your work goals.
1.
Decorate your office
Decorating your office can easily put everyone in the sporting mood fast! And it's never been easier to do from the comfort of your own desk. Put up some colourful bunting, lay out a spread of superb sporting snacks, and replace your reusable water bottle for the day with one of these eco-friendly half-pint cups. You'll soon feel those awesome stadium vibes whilst studying your spreadsheets.
2.
Organise a sweepstake
There's no better way to encourage friendly competition than through some light-hearted sweepstakes. Your team will be eager to guess whether or not their favourite player will score a winning goal, or if the underdog of the season will make a surprising comeback. Have perks such as winners getting out of doing the office washing up, or not having to take the bins out. Don't forget to keep score throughout the season with your special branded football pen!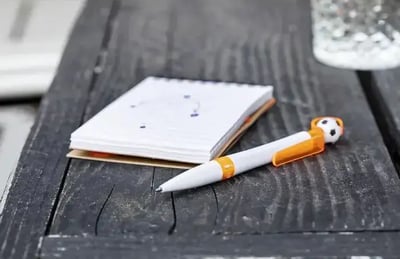 3.
Play your own game
It's a well-known fact by now that participating in physical activity improves your mental health. By organising your own 5-a-side game, or even taking a ball across to the local park for a kickabout, the positive impact of team sports on your mental health is far greater than with individual sports. If you can't find a space outside big enough, we love this hover football for safe indoor office fun. Also, it's a fantastic opportunity to explore sports you usually wouldn't get a chance to. Lacrosse, anyone?
4.
Wear match-day jerseys
David Ballard of the American Psychological Association said that creating, "an environment where employees feel connected to the organisation and have a positive work experience [creates] a rich, fulfilling life." One great way of doing this is by celebrating your team's individual sporting spirit by allowing them to wear their match-day jerseys into the office. We gave it a go, and I think the video speaks for itself!
5.
Make a World Cup playlist
Putting on a World Cup or 6 Nations playlist whilst you work is an instant mood booster. The songs are usually upbeat and catchy, meaning your team won't be able to help but bop along to them. Getting your team in a good mood is sure to raise morale, and as you know, happy employees make for a happy company.
6.
Organise themed evenings out
Are your team golf fans? Or, do they share amazing rugby stories every Monday? Organise your regular monthly work trips around a different sporting theme, and your pub crawls will be legendary! Check out our full array of sporting merch to take your themed nights out up to the next level.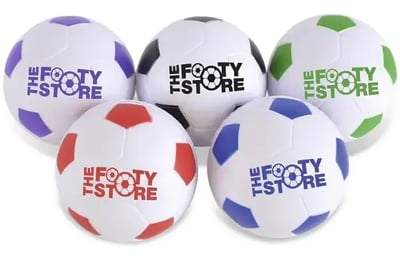 7.
Desk accessories
Sometimes, it's the little things that bring the biggest smiles. For encouraging the sporting spirit at your desk, check out these football stress balls. Or, how about these branded mini rugby balls? Both are perfect for throwing about when brainstorming your next big idea.
8.
Watch the game together
Coca-Cola's World Cup campaign this year is all about believing in the magic. And what better way to bring magic into the office than by encouraging your team to watch the game together? You'll build team comradery, and (as long as everyone gets their work completed on time), by finishing a little bit earlier your team won't be distracted by trying to sneakily watch the game. Be part of the journey, and watch the game together.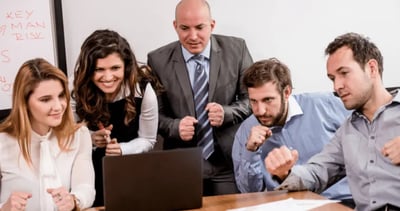 Sporting spirit success!
Got your whistle at the ready? It's time to get your office into the sporting spirit by checking out our amazing selection of branded sporting promotional merchandise. Be prepared for the World Cup and 6 Nations games coming up by chatting to a member of our team now! We're on the ball - are you?