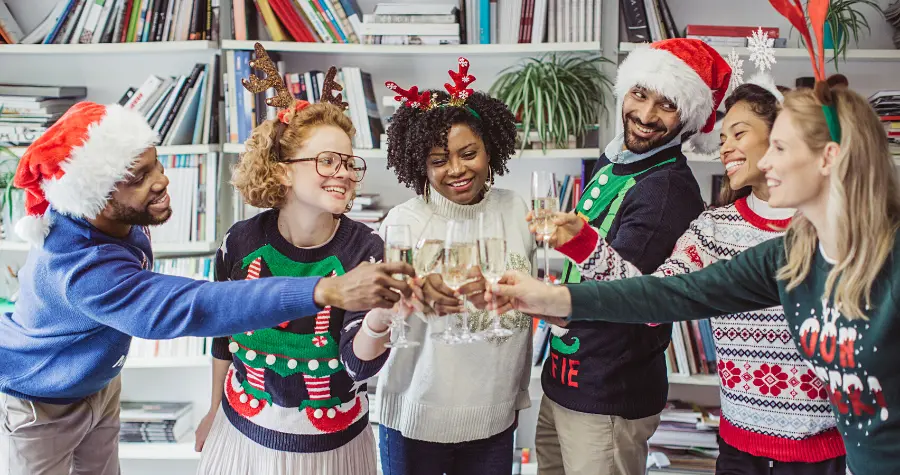 Nothing says Christmas more than a classic Christmas jumper!
We've all had one - that ugly Christmas jumper that we secretly love to wear over the festive season. With all the glitter and baubles and reindeer adorning them, it's little wonder Christmas jumpers are a big hit in any office for bringing that dash of Christmas spirit.
That's why they make one of the greatest pieces of product media ever. They're saved and worn year after year, they bring that positive, upbeat energy to your workspace, and without a doubt, they make a colourful addition to your branding repertoire.

Isn't it time for your brand to be a festive superhero this Christmas with its superbly branded Christmas jumpers?

If you're looking to plan a truly magical Christmas this year, we've got everything you need to make the festive season absolutely tree-mendous for your brand. Download our Christmas 2023 brochure now to get your festivities started.
The best branded Christmas jumpers
1. Christmas jumper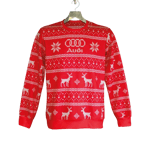 Now your brand can embrace the festive season with a Christmas jumper featuring your company logo. The jumpers come in a range of sizes and a choice of 8 festive patterns, and with a no-itch knitted effect, there's 100% comfort and no itchiness.


2. Bespoke Christmas jumpers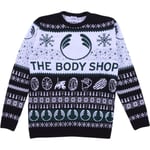 Spread your brand this Christmas as well as festive cheer with a bespoke knitted Christmas jumper from Notjust!

A branded Christmas jumper is the ultimate way to express your brand's unique sense of humour.
Designed, knitted, and hand-finished in the UK by Notjust, get ready to enjoy the festive season in a high-quality, fun and ethically sustainable garment for your staff and customers.

Choose from a wide range of styles, yarns and patterns to create the perfect bespoke garment.
Read more: Be quick! Order your promotional advent calendars now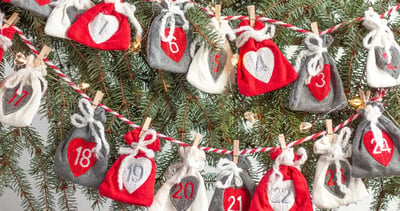 3. Knitted Christmas jumper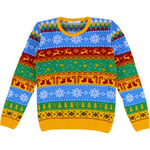 Another one from Notjust, this sleek, Scandinavian-inspired Nordic knit lets you blend into the background while simultaneously setting yourself apart from the crowd.

It's a fresh take on a classic design. It's simple, but it's stylish.

Also, all Notjust knits are designed, produced and distributed domestically to ensure all knits are made in fair and ethical conditions while minimising carbon emissions.

Furthermore, 50% of all proceeds will be donated to environmental charities, to ensure we help make a difference.
Who're Notjust?
Notjust are standing up to our throwaway culture.

Notjust Clothing are a registered social enterprise built up of socially conscious creatives.

Based in the UK, everything they produce is designed and created with sustainability in mind.

Since Notjust started out in 2017, they've been committed to creating ethical and sustainable clothing that drives positive social impact.

They believe that every little change can lead to a big impact.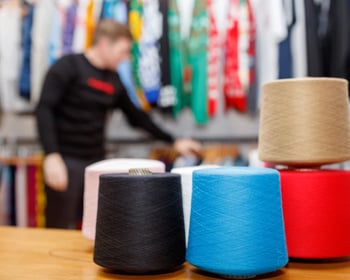 By creating all their garments domestically, Notjust ensures that ethical working conditions and fair wages are provided for workers.

By producing garments in the UK, they ensure carbon emissions from transport are kept low, too. All the packing used for their jumpers is completely biodegradable.

Through each of their viral campaigns, they've raised over £85,000 for charities including Save the Children, Kicking Off, Mind, The Big Issue, and many more.
By committing to premium quality, Notjust are fighting against the 'throwaway generation' many of us live in today.

It's not just clothing, anymore, it's a movement.

And that movement is making a difference this Christmas - with your help!
Share the Christmas spirit with branded merch
We've been checking our list (twice!) and we're sure you've been nice this year - so why not treat yo'elf and get your brand sleigh-in' it this Christmas with all the best festive promotional products around! Just call us the promotional merchandise Santa-Claus.

Download our Christmas 2023 brochure now to get your festivities started, or request a call-back from one of our merchandise consultants today by filling out the form below.
Request a call-back