Further Protection with Antic-Bac & AntiBug®

Jess Patton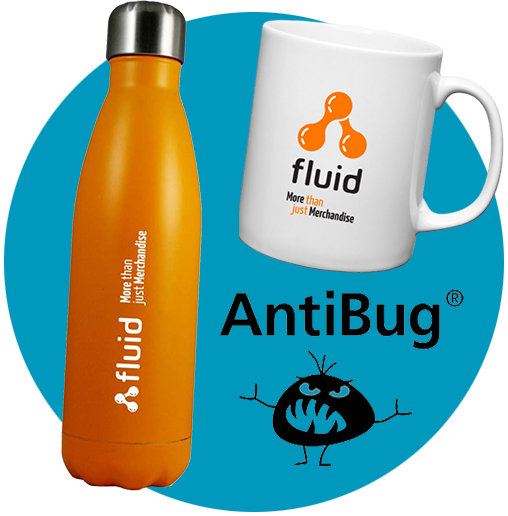 Being health and hygiene conscious is an important part of everyday life - now more than ever. Helping to prevent the growth and spread of harmful pathogens is something that the whole world is keen to be a part of, and now there's a way you can do that with your branded merchandise!
A special new AntiBug® protection process has now been introduced to the manufacture of some of our most popular lines of branded merchandise, including a selection of mouse mats, Pantone matched ColourCoat mugs and bottles, and our entire range of screen printed ceramic mugs, coasters and counter mats.
The resulting specialist surface starts to fight germs as soon as they come into contact with the product and have been clinically proven to kill 99.99% of harmful bacteria within a 24 hour period. What's more, AntiBug® products can withstand repeated cleaning cycles whilst maintaining antibacterial effectiveness. This is because the active ingredient is released gradually, providing maximum long term activity.
How does it work?
In short, antimicrobials are added to the product at the time of manufacture. These silver ions then concentrate on the surface of the product and are then available to act against any contaminating bacteria. The silver ions bind with the bacteria and damage their cells in a number of ways, disrupting their normal function, stopping them from reproducing and causing them to die.
Does it replace cleaning?
No. The additive is complementary to cleaning practices. The technology continues to work 24 hours a day in between the normal cleaning schedules thus reducing growth of the microbes preventing them from reaching potential dangerous levels.
How long does it last?
As long as the products - the AntiBug® Coating will last for the normal life of the product under correct use.
Is the look and feel of the product affected by the AntiBug® Coating?
Absolutely not - there will be no change to the characteristics of the product other than achieving antimicrobial efficacy. Check out these two examples of long-loved products, complete with all their usual benefits as well as the added AntiBug® Coating - providing further peace of mind to your teams and customers: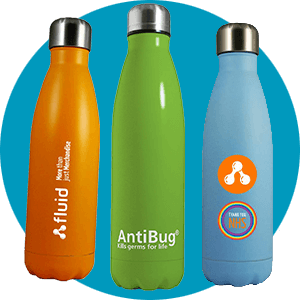 AntiBug® Durham/Cambridge Mug and the AntiBug® ColourCoat Eevo-Therm Bottle
These two bestselling mugs are very similar in style. Our white mug is a Durham style and the coloured mugs are Cambridge style. Both mugs are available with a direct screen print.This product is treated with our patent protected, fully certified AntiBug treatment to keep germs at bay.
Your very own choice of Pantone colour applied in a gloss or satin finish to the outer body of our popular Thermal Bottles. Keeps liquids hot for up to 12 hours and cold for up to 24 hours.
Can bacteria become resistant to silver ion technology?
Due to the several modes of action silver utilizes, it is highly unlikely bacteria will become resistant to the specialist AntiBug® Coating.
Is it regulated?
It certainly is, yes. It is regulated in the UK and EU by the Biocidal Products Directive (BPD) and in the US by the EPA. This means that the coating has undergone special scrutiny before being released onto the market, and you can rest assured you're using a product that does exactly what it says it does.
Add that personal touch…
Many of our specialised AntiBug® products can also be personalised as part of your order. This not only offers a nice personal touch for your teams, but also helps to prevent accidental use of someone else's bottle, mug or pen.
Check out the range
Sound good? Take a look at the entire range of products offering AntiBug® and antibacterial protection below: