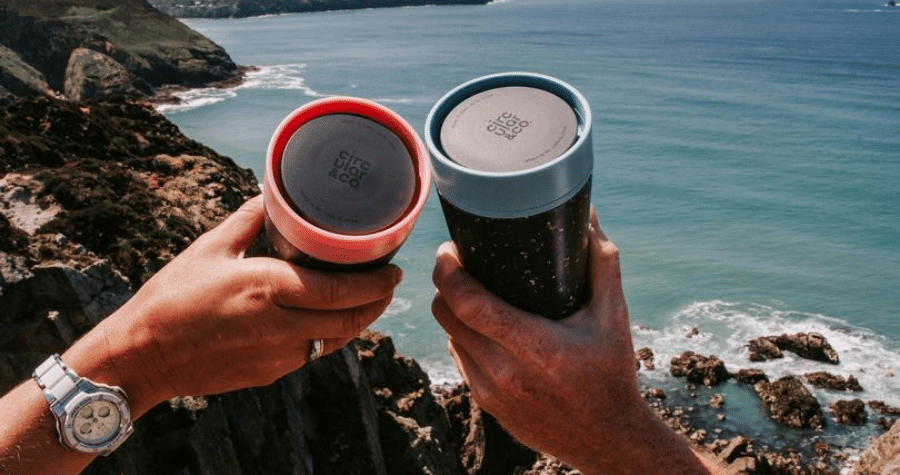 We love Circular & Co. as a brand. They're a cornish-based bottle company making incredibly stylish, yet practical, water bottles and coffee cups. But, what makes them extra special is that all their water bottles are made from, well, other bottles!
Being a B Corp (you can read more about this here), we love to champion anyone who puts the planet before profits. We believe that Circular & Co., and companies like them, are the future of merchandise - a future we're very excited about!
As Circular & Co. say themselves, "Positive action is a journey", and the very first step in your eco-journey will always be the most impactful. That's why we want to help you take that first important step, by sharing with you why we love Circular & Co., and why we think you'll love them too.
Who
are Circular & Co.?
Like many inventors, Dan Dicker started Circular & Co. back in 2003 from his garden shed. Having had a thriving career as an ex-Dyson designer and product inventor, Dan's dream was to move to the coast to start a new life by the sea. However, he soon became disheartened with how our modern lives were producing much waste. He could see our throwaway culture damaging the planet, and vowed to do something about it.
That's when the concept of circular design caught Dan's attention. It wasn't an established concept back in the early 2000s, but Dan didn't let that stand in his way. Since then, he has been working with a network of industry experts to develop real circular solutions. These are products that last as long as possible and can be 100% fully recycled at the end of their life. Dan saw this as the only solution to our planet's waste problem, and we couldn't agree more.
Welcome, Circular & Co.!
Circular & Co.'s mission
Circular & Co.'s brand goals align perfectly with our own. They're on a mission to stop waste from harming our oceans, as well as giving single-use plastic a 2nd chance.
"Our mission is to make apparently useless materials, destined for landfill, into genuinely useful, sustainable, and well-designed products"
And this is precisely why we love working with Circular & Co. By championing this 'closed loop' design, you can have the confidence your water bottle or coffee cup is doing great things for the planet.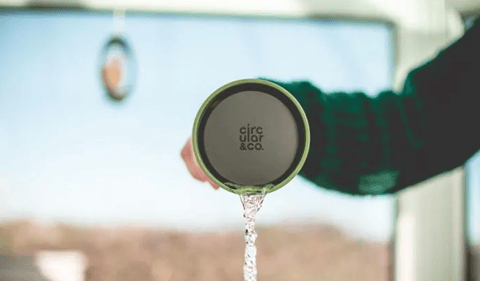 What is circular design?
Our linear economy model of take, make, and waste, is outdated. As a society, we cannot keep creating so much unusable waste. The solution? Circular design.
Circular & Co. consider circular design the only viable solution to the predicament we now find ourselves in. I mean, they believe it so wholeheartedly they even included it in their name!
Circular design's ethos is living within our planet's limits, considering the full journey of the product, and what it'll be used for next.
"Circular design works like nature, regenerating used things into new things. Over and over again. Nothing lost, nothing wasted. We believe in circularity passionately because we've seen it reverse waste and pollution exponentially."
To give you some perspective, in 1970, we took 22 billion tonnes of natural resources from our planet. In 2010, this increased to 70 billion tonnes. The prediction for 2050 is 180 billion tonnes. Our world just can't keep up with our demand, so we've got to do everything we can to find, and support, alternative solutions.
Overall, circular design is a product whose materials can be reused or 100% recycled.
Just think, what will your water bottle or coffee cup be next?
Our favourites from Circular & Co.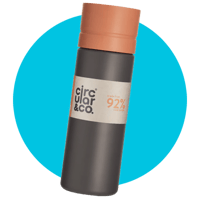 1. Circular & Co. Bottle
This is a favourite water bottle of ours. Made from 92% single-use bottles (x14 single-use bottles per bottle), the Circular bottle is all about circular design. It's 100% recyclable at the end of its life, although that most likely won't be until 10+ years of use. It's also lightweight and leakproof, so it's practical, too.
2. Circular & Co. Cup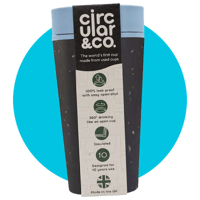 The world's first reusable cup made from other cups! Following the same premise as Circular & Co.'s bottle, the coffee cup is all about the design. This mug isn't made to sit in a cupboard getting dusty; it's made to be used again and again! And great news, after 10 years of use, your cup can be recycled into another Circular & Co. cup and the cycle continues.
3. Circular & Now Cup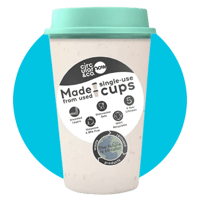 For that traditional travel cup look and feel, the Circular NOW cup is the world's first reusable cup made from single-use paper cups. It's 100% recyclable and designed for 5 years of use, perfect for replacing your usual takeaway coffee cup. Coffee on the go has never felt so good!
Why we love Circular & Co.
1. Circular & Co. are convenient
We love how not one ounce of convenience has been hindered by Circular & Co.'s goal of being sustainable. All their products can be thrown into your regular curbside recycling, meaning no extra effort is needed to help ensure your cup continues on its circular journey.
Its whole design is about being practical, with portability in mind. It won't leak, ever. You can easily open it with one hand and drink whilst on the move. It'll keep your drinks hot or cold for ages. Best of all, it's 100% dishwasher safe.
2. Circular & Co. enjoy their morning brew
Enjoying your morning coffee is often a cherished part of a morning routine. That's why Circular & Co. have designed all their coffee cups with your morning brew in mind. With 90% of the taste of coffee based on smell, the clever design of the Circular & Co. coffee cup lid allows that glorious fresh coffee smell to be enjoyed with every sip, too.
"...we've seen and tried dozens of [reusable cup] styles and have got to know their pros and cons. Having tried the rCUP, I was pleasantly surprised to find that you really can smell the coffee, which enhances the whole sensory pleasure of a well-made brew…what's also great: it's genuinely leakproof." - Hugo Hercod, Former UK Barista Champion
3. Circular & Co. are thinking ahead
Did you know, currently we are only reusing about 2% of what we put into our recycling? That's not a lot. With Circular & Co., your water bottle and coffee cup are guaranteed for use for 10 years. Even after that though, Circular & Co. will try everything to help you repair or replace them, to prevent them from becoming landfill.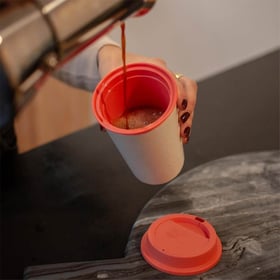 Choose recycled. Challenge longevity. Check recyclable.
Being a force for good is all about challenging the status quo and making small, meaningful changes. It's a goal we're willing to take on! Are you?
Check out our post all about using your business as a force for good for more ideas on how you can champion a more positive business agenda. Or, for more product ideas that focus on doing more for the planet, why not check out all our products with a positive impact collection?
If you'd like to hear more about Circular & Co., and how their products would be a great fit for your brand, chat to a member of our sales team today.