Introducing Fluid's Creative Team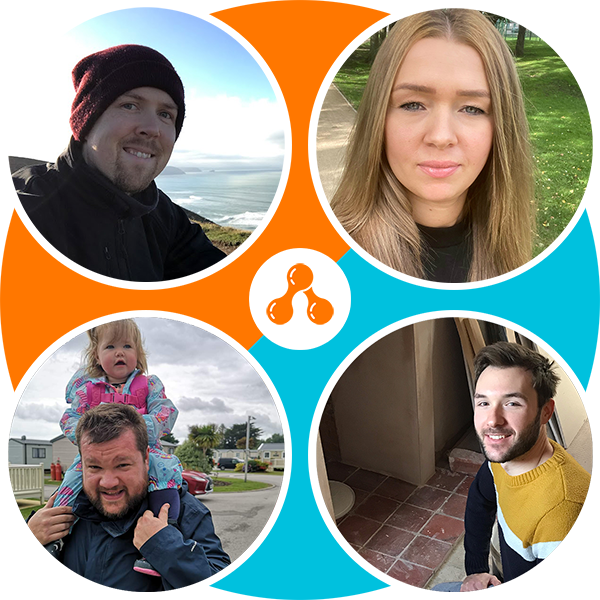 2020 has seen many teams divided, and I'm not referring to a difference of opinion like "do you prefer tea or coffee first thing in the morning?"
Many teams or departments who were used to being together in a collective space - breaking out into conversation or bouncing ideas from one another - had to suddenly adjust to being isolated on their own at home, catching up with the rest of their colleagues via online video call platforms.
For the Creative Team at Fluid Branding however, it's the way in which we have always worked, based on where our designers are located. And if anything, the periods of isolation brought us closer together as a group – helping each other out when one of us needed a second opinion on a given brief, or simply being there (virtually) to provide support.
We normally sit behind the scenes, working with our Marketing Team on the Fluid brand as well as the creative needs of our clients, but I wanted to take a moment to briefly introduce Fluid Branding's designers – providing a little more insight to go with our mugshots online.
David Ware
The youngster in the group, David was born and raised in South East London where he spent most of his childhood drawing, building things and generally annoying his older brother and sister! He later moved to Suffolk where he studied Art and Design, eventually focusing on Design and Graphic Communication. During this time, he also freelanced as a Storyboard Artist for corporate films and online advertisements.
David loves all things creative, including architecture - so much so that he bought a Victorian cottage with his girlfriend to renovate! Away from being a graphic designer (or working on building restoration), you will find him spending time with his dogs or cycling on nearby trails.
Adam Hicks
Adam has been with Fluid Branding for a few years now and loves living in Cornwall. He likes to make the most of his spare time in the countryside, as well as on the coast. He has an array of pastimes, including playing 6 aside football, coastal walking, airsoft, mountain biking, inline skating, photography, and sea fishing. During the summer months you will often find him breathing in the sea air whilst rock hopping St Austell bay, looking to land a decent catch - his way of unwinding after a long day in the studio. If he's not by the sea, you will find him creating all sorts of mischief with his little girl Molly!
Creatively influenced by his Mum, who was quite artistic, Adam was drawing, painting and sculpting at a very young age, going onto to win a youth competition for model making in the process. He went on to study Art & Design at St Austell College, followed by a degree in Graphic Design at the University College Falmouth.
Adam's first position as a Graphic Designer after education was for a local computer and healthcare software company, taking the lead on a variety of projects from brochure designs to trade stands and signage. Looking for a new creative challenge, he joined the Fluid Family in 2017!
Laura Ralph
Laura has always wanted to design things. When she was 5 years old she won a competition to draw her new primary school uniform logo! She drew her friend and herself holding hands, and it was printed onto their uniforms up until she went to high school.
After university, Laura moved from Chester down to Cornwall with her family, and after a couple of years working for the local newspapers and Cornwall Council, she found her Fluid Family! This was ten years ago now, when we were all working together, in one room.
Laura now works from our Manchester office (or from home for a large part of 2020), virtually catching up with everyone and their pets!
Marc Barbery
Finally, a quick intro about myself. Cornish born and bred; I was fortunate enough to land a job at Fluid Branding during its first year of trading. Watching the Fluid brand evolve and the company grow over the years has been an amazing story to see unfold - and to have played a small part in.
Graphic design has always been a subject of interest since as far back as I can remember, and the use of typography and brand communication were areas I explored during my time in education.
Away from sketch pads and computer screens you'll find me in the kitchen baking more bread than any one person might need, out in the garden trying to live 'The Good Life', or exploring the Cornish coastline (burning off all that bread!).
So, when you next contact Fluid Branding for some creative guidance, you may very well be put through to one of us. 1 thing I'm grateful for this year is being part of a great team of designers who love what they do, supporting each other as well as the brands we work with. Long may that continue into 2021!