Which Brand is Going for Gold?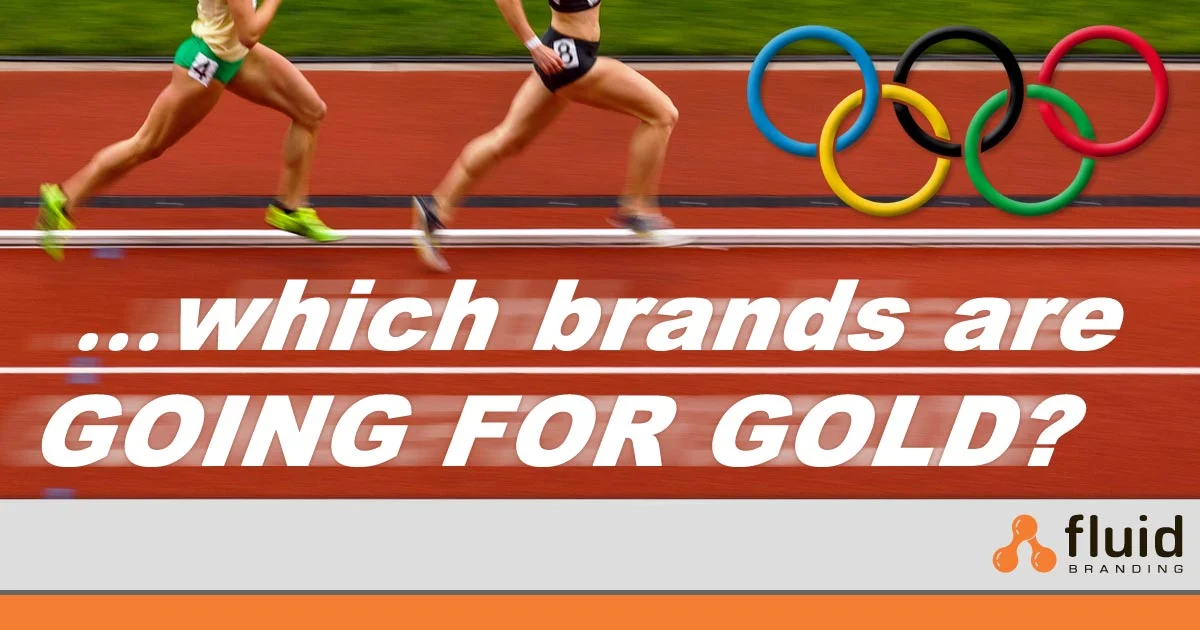 With Rio 2016 Olympic Games fast approaching, our eyes and ears will be filled with marketing adverts and promotions surrounding this prestigious event. The games are one of the largest-scale and most profitable global media events.
The previous London 2012 Olympic Games is an example of an unparalleled marketing triumph. With a record 3.6 billion television viewing figures from around the world and more tickets sold than the past 3 summer Games, they left Lord Coe very pleased with the event...
"Against the backdrop of a challenging economic climate, our commercial programme raised the vital revenue required to stage these Games. More than that, the programme also helped us to reach and inspire millions of people. At the start of the Games I said that London 2012 would see the best of us. I said we would light a flame to ignite the world. We have done this – and more. As a nation we now know what we are capable of achieving." Lord Sebastian Coe 2012
The Olympic Sponsors
In the world of sports marketing, promotion and advertisements are a fundamental tool for generating profit, these events come with marketing opportunities that cannot be missed. The Olympic Games have 11 Global TOP Partners, 7 Domestic Partners, 7 Official sponsors and 28 Official suppliers who have all fought to push their company forward within this competitive market.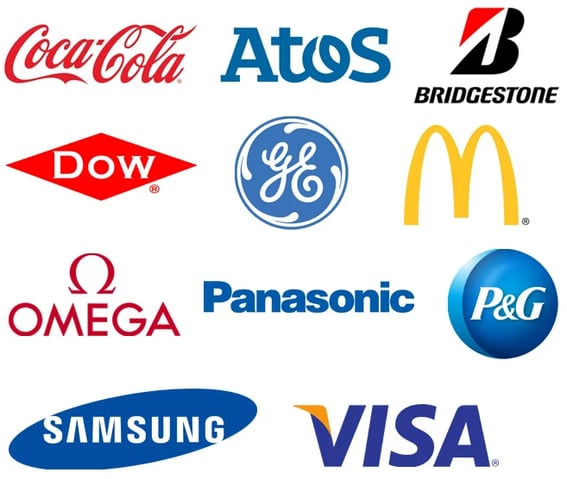 Now, let's take a look at how they have battled it out over the previous years...
The Fast, Slow and Memorable
When it comes to big events such as the Olympics, brands see the opportunity for more exposure, so will market their product towards this event.
Nike v Adidas
For the London 2012 Olympics we saw a good example of branding rivalry between Nike & Adidas.
Nike created a campaign titled 'Make It Count', all of their adverts featured #makeitcount which encouraged people to follow their campaign on social media. For the campaign they created video advertisments, billboards and images which all featured well know sports figures to strengthen their following. Some examples are shown below...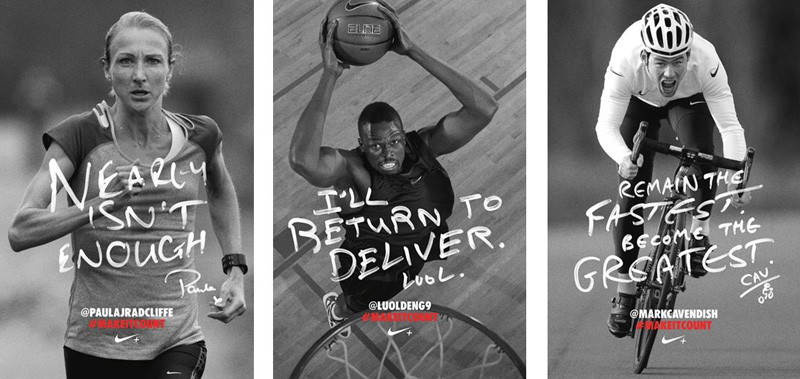 Throughout the video and images, Nike have continued the theme of black and white with the campaign name remaining in striking red. This instantly attracts your eyes to the title, encouraging this to stick in your mind. The subtle links to London in nearly every shot create a distinct relationship to the Games, however, these adverts were verging on landing them in hot water with the Olympic Regulations.
Nike's campaign is clearly designed to cash in on Olympic fever and get one over on their arch-rival Adidas, which has paid tens of millions of pounds to be an official London 2012 global sponsor.
Adidas was one of the official sponsors for the Olympics, they created their campaign titled 'Take The Stage.' There are a lot of similarities between the Adidas and Nike adverts, so you can understand where the controversy began. Both companies have opted for a stimulating approach within their videos, advertising their clothing on both athletes and the younger generation.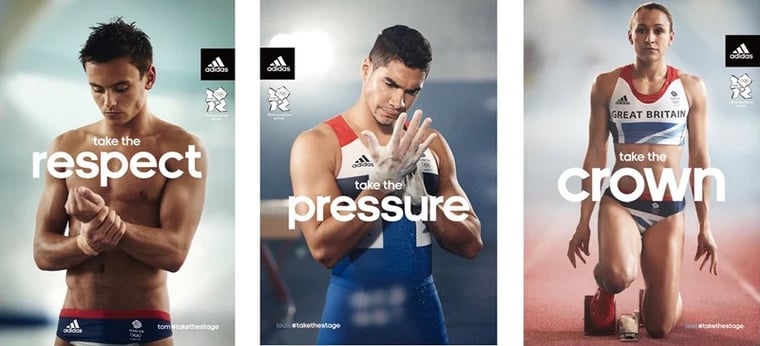 Let's compare the statistics:
By Adidas paying £100 million to be a sponsor of the Olympics this straight away gave them the head start by Britain's most successful Olympic athletes having Adidas branding all over their kit.
During the Olympics (between the opening and closing ceremonies) the twitter accounts for Nike & Adidas grew with the following:
@Nike's followers grew 11%, adding more than 57,000 followers
@Adidas originals grew only 32%, adding 20,000 followers over the same time period
The sportswear giant, which was a tier-one domestic sponsor, now has 117,973 followers for its Adidas UK account, compared to Nike UK's 14,578.
It found Nike's top 10 most-shared ads during the Olympics gained a combined total of 192,907 shares, while official Olympic sponsor Adidas's top 10 gained 226,866 shares in total. When it came to the # mentions there wasn't much in it overall: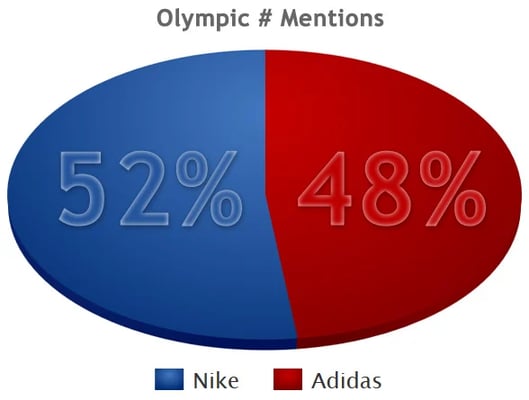 I think it's fair to say through this branding battle, Adidas came out on top however, Nike did put up a pretty good fight, let's see how it pans out for Rio 2016!
The Slow & Memorable
In comparison to these great marketing campaigns, over the years there have been some that have not quite qualified.
As one of the Olympics official sponsors for London 2012, Coca Cola fell at the last hurdle with an advert that strangely incorporated Coca Cola, music and sport. The initial concept with the 'concert' involving the choreographed sports sounds great, however, towards the end it lost its way and became more about Katy B than the sports.
Every year there is one advert that stands out more than others for different reasons. Procter & Gamble do a good job of this every year with their reoccurring campaign 'Thank You Mom.'
They have found a subject that everyone can relate to and tap into this emotional connection, ensuring that people remember their brand.
The Brand Playoffs
This August the world will see Rio de Janeiro host the 2016 Olympic Games, in the past few months brands have been adapting their marketing to target the games, especially the sponsors.
We have seen a variety of companies' take a different approach to their marketing campaigns, here are a few of the several out there;
We have Nike that have approached the concept of the future Olympic Games athletes, finishing with the present. In comparison to Visa who have opted to focus on the heart and how it enhances your performance, following their company slogan 'Life flows better'.
Branding Sponsor Chart:
RIO Olympics Top Sponsors by BAI -- 18 Months Out
Partners in Grey, Non-Top Sponsors in Green
BIA - Brand Impact Analysis
1
Coca-Cola
193.18
2
IBM Global Services
181.29
3
Bridgestone
174.23
4
Siemens AG
168.69
5
McDonald's
158.44
6
Procter & Gamble
153.71
7
Pepsi
152.21
8
GE
109.49
9
Nike*
96.95
10
DuPont
72.71
11
Starbucks
69.07
12
Red Bull
63.50
13
Rolex
61.56
14
Philips
61.08
15
Omega
60.01
16
Samsung
51.95
17
Panasonic
51.95
18
Unilever
37.81
19
Subway
35.14
20
Dow
33.37
21
Visa Card
11.05
22
Atos Origin
2.60
© 2015 Global Language Monitor
*Nike is an Official Supplier with the clout of a Top Sponsor
Above is the branding sponsor chart 18 months ahead of the games, below are three of the bigger sponsors:
Coca-Cola
Coca-Cola is the longest continuous sponsor of the Olympic Games, they have sponsored the games since 1928 and have extended their role until 2020. This year Coca Cola have decided to approach their marketing differently with the 'One Brand' strategy - uniting four of their district brands under the one umbrella of Coca-Cola.
"We're going to have a special moment in the Rio 2016 Olympic and Paralympic Games and Coca-Cola will play an important role on it. This campaign is the first step. Everything that we're going to do for the Games will be connected to the new campaign strategy, starting with the Rio 2016 Olympic Torch Relay. It will be a unique opportunity," said Javier Rodriguez, vice president of marketing, Coca-Cola Brazil.
McDonalds
Somewhat ironically, McDonalds have sponsored the games since 1976 and have again extended their sponsorship until 2020.
President Rogge said: "We are delighted that McDonald's, our long-time and valued Olympic Partner for more than 35 years, is continuing its ongoing commitment not only to help fund the Olympic Games but also to support the Olympic Movement around the world and ultimately the athletes themselves."
Procter & Gamble
Procter & Gamble have stolen hearts globally again with their Rio 2016 advert, repeating the well performing 'Thank You Mom' campaign, they have stuck with the 'One Brand' approach to their marketing with this emotional branding.
We will see over the upcoming months how all of these brands will progress to push themselves into the fore – only the public will determine who gets the gold in terms of brand salience!