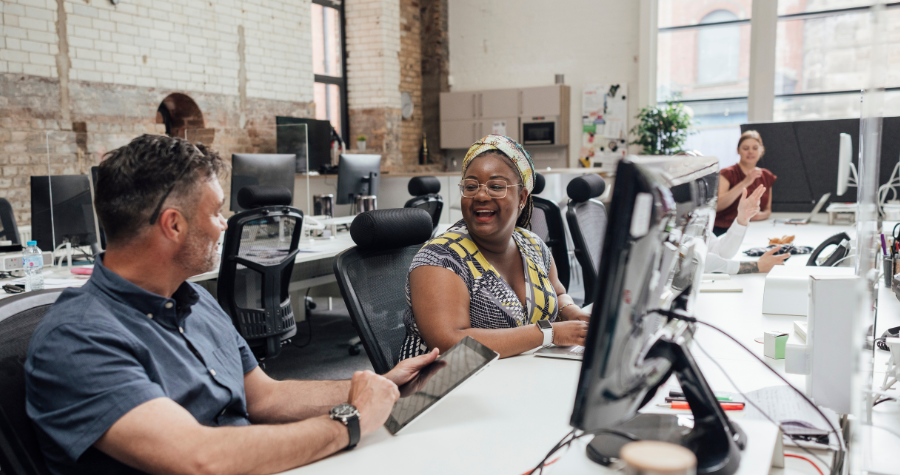 If you're looking for quality-made merchandise that'll lower your carbon footprint, look no further than our favourite UK-made branded product picks.
This week, we're focusing on UK-made branded office essentials because, let's face it, every office needs the basics.

If it's time to up your office stationery game, we've got you covered with the very best in UK-made merchandise.

Interested in browsing more of our UK-made branded products? You can check out our entire UK-made merchandise selection, or get in touch for your free consultation with one of our Merchandise Consultants today.
8 UK-made office essentials
This A5 casebound notebook has to be one of our favourites. The soft-touch vegan cover with a subtle two-tone effect looks amazing when branded. Available in 20 colours, it's made to order in the UK.
Need to jot an idea down fast? Don't want to ruin a page in your notebook? We wouldn't be without a sticky notepad for those instant sparks of inspiration. This 100 x 75mm block contains 50 sheets of white 80gsm sticky paper, where each sheet can be branded.
The best way to start your day: a cup of your favourite morning brew. This Americano® Pure contains Biomaster antimicrobial technology to protect against the growth of harmful microorganisms on the surface of your mug. Clever, right? It's effective for the lifetime of the product and doesn't affect the recyclability of the mug. Have that extra piece of mind with every sip.
Never be without your favourite pen again! This bamboo ballpoint pen looks fantastic when laser-engraved, and you can even get them personalised.
Keeping hydrated is super important for mental and physical well-being. That's why it's essential to have a water bottle in your office toolkit. This H20 bottle is great as it's not just UK-made, but it's made from prevented ocean plastic, too! This is plastic that's been collected within 50 km of an ocean coastline or major waterway that feeds into the ocean. This is then sorted and transformed into high-quality, food-safe recycled plastic - isn't that amazing?
No one likes coffee stains or mug rings on their desk. Deter the mess and protect your workspace in style with these 9mm solid oak wood coasters with cork backing which look amazing branded.
Keep your keyboard and mouse in check (and your brand in view at all times) with this A3 counter mat.
Taking time for yourself (even if it's just little moments throughout the working day) is essential for a productive and happy work life. That's why we've included these wellbeing handy can kits as one of our top favourite UK-made office essentials. The kit includes x1 hand sanitiser, x1 hand cream, x1 lip balm, plus energy sweets and tissues.
Enjoy a staycation with UK-made merchandise
Because UK-made merch is better for the planet (as it reduces your carbon footprint) and better for your brand. Deck out your office with the essentials straight from this little island we call home. Plus, hot tip: UK-made products usually have a faster turnaround time for your all-important last-minute merchandise needs.

Interested in finding out more? Check out our entire UK-made merchandise selection, or get in touch for your free consultation with one of our Merchandise Consultants today.