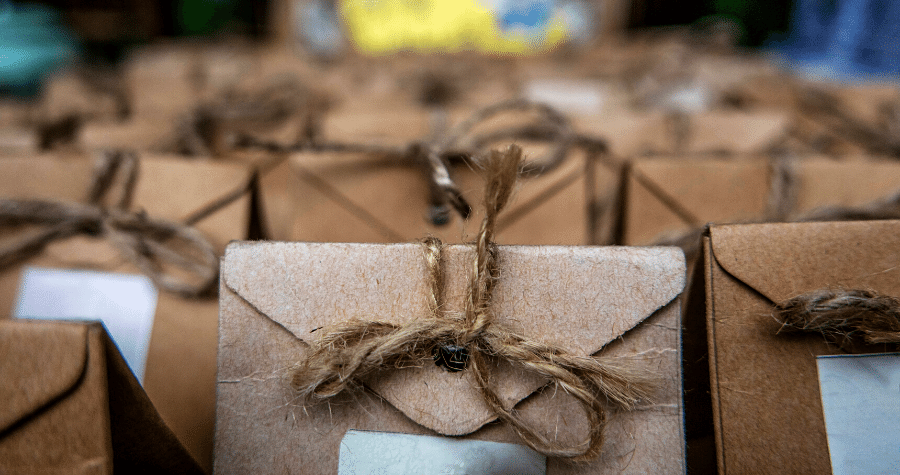 It's an old assumption that terms like 'eco' and 'giveaways' couldn't co-exist in the same sentence. Thankfully, advances in sustainable merchandise mean that now they can! There are plenty of amazing products available that we think would make the perfect 'green' giveaways for your next event.
With so many items that are either reusable, recyclable or even plantable (yes, plantable), you're sure to find the right exciting match for your brand.
It's a fact that giveaways are what make conferences great. They're perfect for creating that lasting impression on potential new clients, building your brand image, as well as drawing people to your stand. And don't forget: everyone loves a freebie!
Dan Ariely in his book "Predictably Irrational' states that people change their behavioural patterns and are more willing to comply when something free comes along. This is because it's a powerful emotional trigger when there's no risk attached to a decision, meaning your free merch is more than likely to draw people to your brand (with no extra effort on your part). If you opt for giveaways that are eco-friendly, people are going to associate your brand with doing good, however briefly they are at your stand. This might make the difference between them remembering, or forgetting, you.
That's why we love conference giveaways. We want to help you make better, sustainable, choices that will do your brand and the planet the world of good. Check out our 14 favourites below, and let us know what you think!
Reduce
A great way to make your conference giveaways sustainable is to choose items that are made from recycled materials. Offsetting this usual useless waste by producing something completely new is a lifesaver when it comes to the planet. Here are just a few of our favourite recycled products that we think are perfect for event giveaways.
Think of anything, and we'll be able to make it a keychain. And, when it comes to giveaways, the weirder the better. This recycled custom keychain will draw attention to your stand, and with it also being so useful, who could resist?
The perceived value of an item of clothing is everything when it comes to giveaways. If you keep your branding subtle, this cap is sure to become a firm favourite amongst prospective clients. And don't forget, with every purchase of anything in our Impact collection, 2% of the proceeds will be donated to Water.org. This way, your giveaway can do even more good.
3) Recycled spork
Sporks have never failed to get at least one chuckle at a conference. Made from recycled plastic and digitally printed with any logo, this spork will become a firm household staple in no time.
These items are generally good at conferences for schools, universities and the hospitality sector. If you're interested in more information on the above products or seeing what other recycled merch we can offer, get in touch today.
Reuse
Reusable items are probably the most eco-friendly merch around as they will (hopefully) never end up in landfill waste. With the longevity of an item a key factor in its reusability, these giveaways are slightly more premium than typical choices. However, the wow factor they have on potential clients is second to none.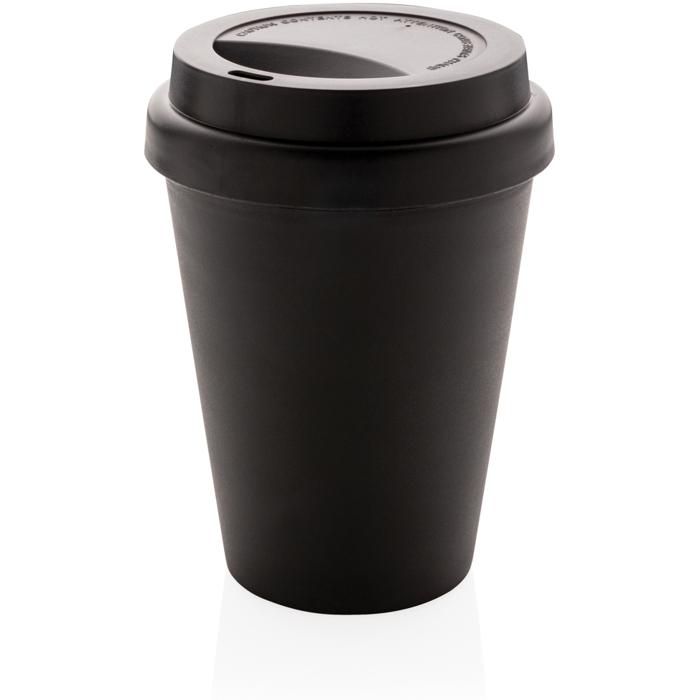 4) Reusable 300ml double-walled coffee cup
This reusable double-walled coffee cup is the perfect premium conference giveaway. Cleverly designed to keep your morning brew warmer for longer, this lightweight, durable cup will become a firm favourite amongst your prospective clients, keeping your brand at the forefront of their minds.
One of our best-selling items, this bottle has proved more popular than we ever expected! With its sleek, stylish design, and leakproof stainless steel cap, having this eco-friendly glass bottle available as an exclusive giveaway will ensure your brand stands out.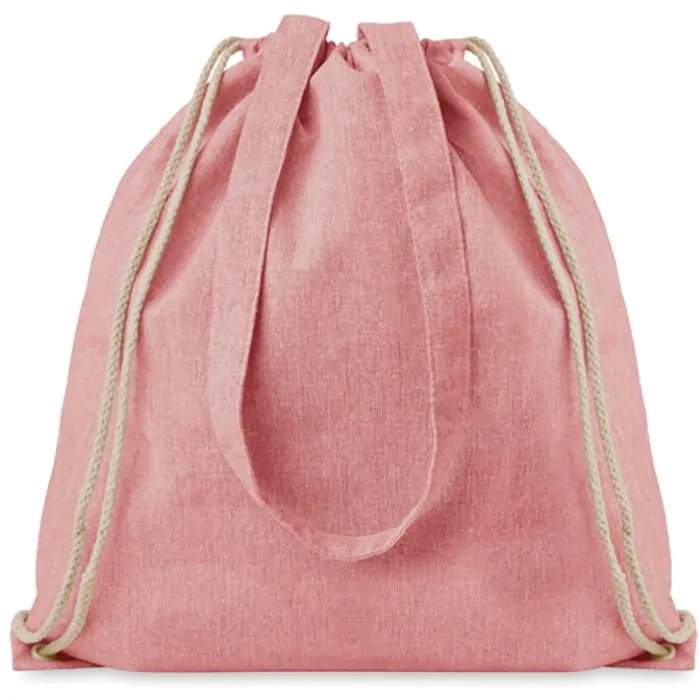 6) Recycled fabric duo bag
We all have 2, 3, or maybe even 10 tote bags from various events stuffed in a cupboard. We all also have drawstring bags we wish were totes. Combine the two in a brilliant design and you'll never need another bag again! This tote/drawstring bag made from lovely recycled cotton will become a household essential for anyone who's lucky enough to get one.
These giveaways go down great at more corporate functions, or if you want to ensure your key contacts get a special treat from you. Interested in finding out more? Take a look at our conference essentials collection for more giveaway ideas.
Recycle
We're not going to pretend that all your giveaways are going to be kept forever. Sure, some will, and that's great! But others will have fulfilled their purpose and will come to the end of their life sooner or later. Whether that's 6 months, or 5 years, down the line. That's why giveaways that can be easily recycled in household waste are a must, and these are our four favourites.
7) Recycled paper notebook & pen
It's pretty common to be able to recycle your notebook. Just throw it in the paper bin and you're done, right? Wrong! Some notebooks can't be recycled due to their cover, or any fixtures or fittings. With pens, it's even more difficult when it comes to recycling. That's why we love this notebook and pen combo made from recycled paper and biodegradable plastic parts. Just remove the ink from the pen and voila! Completely recyclable.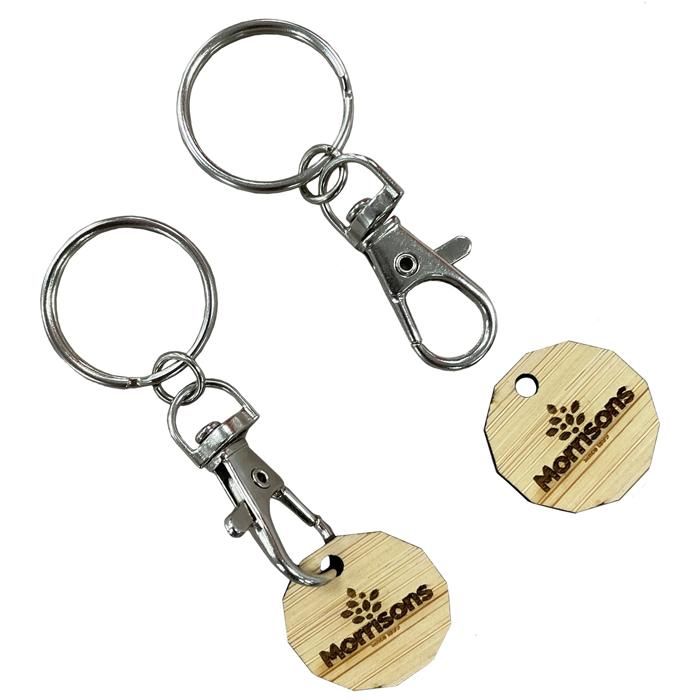 With £1 coins disappearing faster than the office biscuit stash, a trolley coin is essential for that weekly trip to the supermarket. This bamboo one is great with its simplistic design that makes any logo look fantastic. And, when you're done with it, just separate the bamboo disc from the metal clip and put each in your home recycling. It's as easy as that.
P.s. we can also produce these really, really fast.
Another bestseller that we just love! Wheat straw is a sustainable alternative to plastic, made from the stems of, well, wheat! It's biodegradable and reusable, so it's a great material. You can read more about wheat straw in this article from Allplants, which delves a little bit deeper into why it's so great.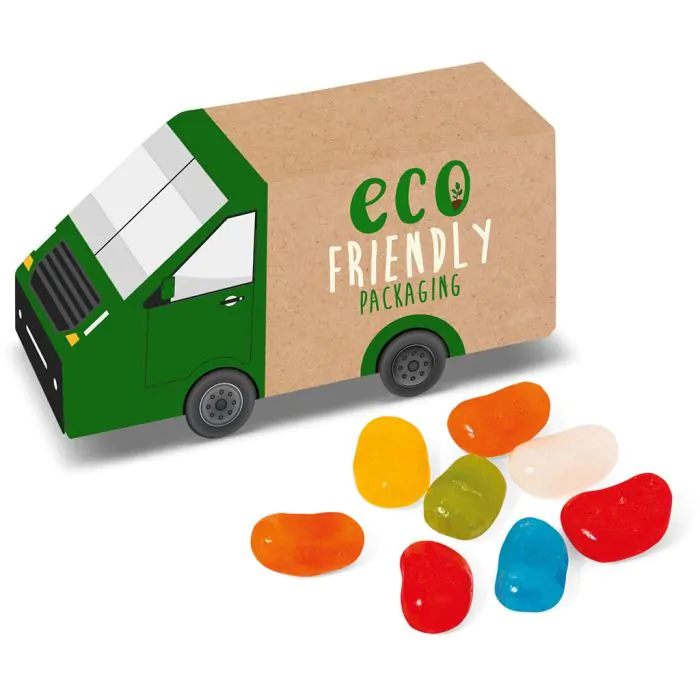 10) Jolly beans
Sweets are the epitome of the classic conference giveaway because no one can say no to a sweet treat! These jolly beans are our favourite as they're packaged in a clear eco film bag inside a box made from FSC certified card (which means it can be recycled or composted when you're done with it).
Also, how cool is the van design?
These can probably be called the "classics" when it comes to event giveaways. Recyclable items are at the forefront of clients' minds when it comes to eco-products, and these are not going to disappoint. Chat with us today for your specialised quote.
Grow
Now, these next ideas are ingenious for publicising your brand's eco credentials. That's because all of the items below can be planted at the end of their life! It's a great way to get your clients involved with your brand. They'll nurture their new plant friends, keeping your brand at the forefront of their minds. And, did we mention, they're lots of fun?
11) Seed paper memo block
We hate the waste caused by memo blocks and sticky notes, but we also couldn't live without them. The solution? This growable seed paper memo block! The paper is dotted with seeds, so once planted in soil, they'll grow into a superb wildflower meadow.
Like a regular pencil, but way better. When you're finished with your sprout pencil, plant the nub in some soil and watch it grow. These make perfect giveaways as the pencil and packaging can be fully branded.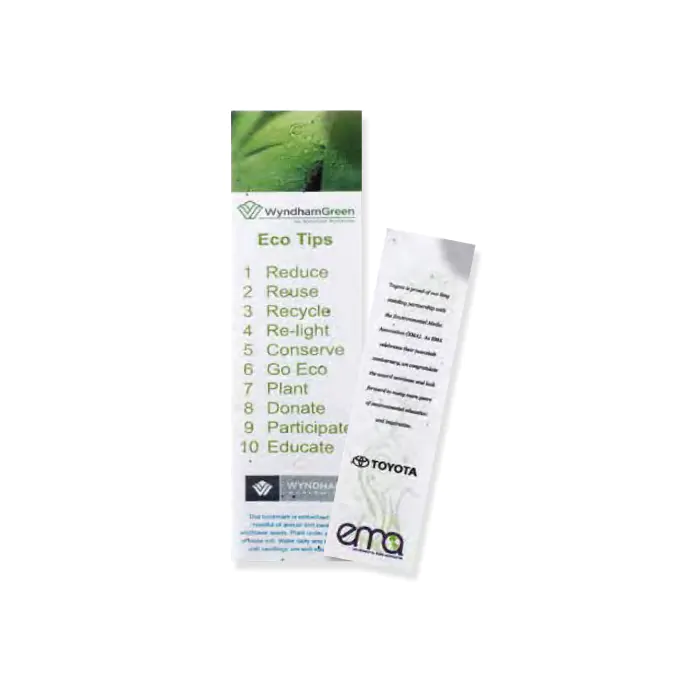 13) Plant It paper bookmarks
Never lose your place again! These Plant It paper bookmarks are available as wildflowers or herb mix selections. Great for throwing into a giveaway bag, these bookmarks are an easy way to get your brand out there, without breaking the bank.
We love these! Business cards are a must-have for any conference, and what better way to make a lasting impression than with a card your clients can plant?
All of the above grow merch options make great 'green' giveaways. Check out how plants can grow your brand in other ways here.
Go eco, go giveaways!
If your giveaways are either reusable, recyclable, made from recycled materials or even plantable, you're sure to cause a positive stir at your next conference. Why not check out all our other favourite conference essentials? Or get in touch with your merchandise consultant to brainstorm today by filling in the form below.
We all love a freebie, so make sure your giveaways are good for the planet, too.