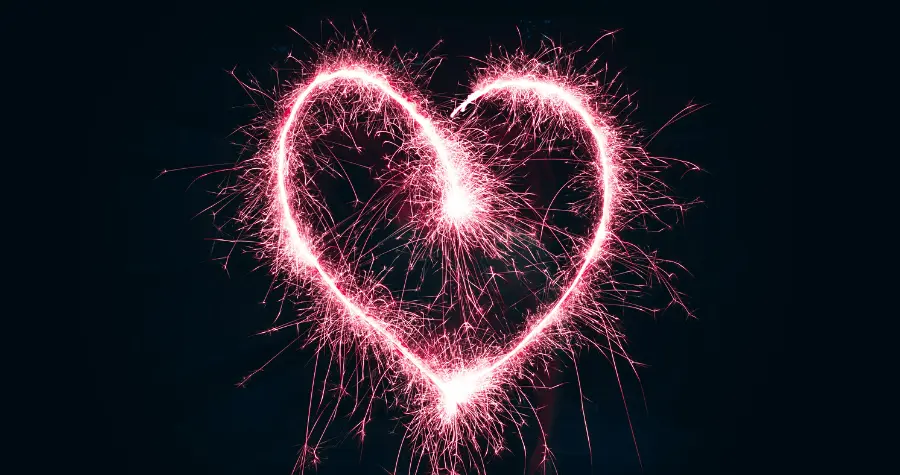 Sharing the love isn't just about romance, it can also be about the love of a great brand, or the appreciation of a great working relationship.
Valentine's Day is a BIG deal when it comes to gifts. On average, people are predicted to spend £23 each on Valentine's memorabilia, totaling an impressive £926m. However, when it comes to the business world, brands tend to get a bit shy around the big V-Day.

That's why we want to share the love this Valentine's Day, with some great merchandise ideas that'll make prospects fall in love with your brand, or possibly even cinch that big deal.

For us, Valentine's Day is about appreciating the people around you that make your job great. Be it colleagues, suppliers, or clients. Whether you want to make a big impression with some thoughtful gifts or send items in the post, it's time to ditch those old-fashioned roses and choose swag instead.
Ou

r 15 must-have Valentine's Day brand gifts
Self-care Valentine's Day gifts
It's time to turn off your phone and take some quality *me time* that you thoroughly deserve. Or, is there someone in your life that struggles with shutting off after a hard day in the office? The below gifts are perfect for reminding you to unwind at the end of a long day.
1) Wellness journal
This Wellness journal has become a firm favourite in the office for improving our mental health.

Developed as a tool to encourage emotional well-being in the workplace, it helps you find that balance between home and work life.

The cover is made from recycled post-industrial coffee cup waste, with a luxuriously soft finish. Available in a variety of colours and elegant finishes, you can completely customise this journal to suit your needs.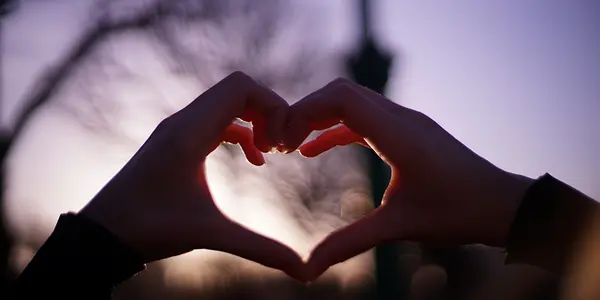 If you're looking for some other suggestions to improve your mental health, check out our post - 12 other amazing ways to improve your mental health this year.
2) Ocean bottle
Ocean Bottle's award-winning flawless design makes it the perfect companion to avoid single-use plastic every day, forever, and to encourage you to drink more water for a healthier self-care routine - and we love it!

It's dishwasher-proof, so it's super easy to keep clean between adventures, and it has a dual opening for easy filling, drinking, and cleaning. It's leakproof, so you can throw it in a rucksack or attach it to your bike; your drink's going nowhere.

It keeps your hot liquids hot and your cold, cold, maintaining the integrity of your favourite beverage for longer. And for every Ocean Bottle you purchase, 11.4kg of plastic (the equivalent of 1,000 plastic bottles) will be collected, sorted, and recycled!
3) Circular bottle
For optimum hydration, we need to drink 6 to 8 cups of water a day, and with the help of Circular & Co.'s Circular Bottle, now you can!

We love Circular & Co., and we can't get over how premium this bottle is. Made from 92% single-use bottles, we're sure this will soon become your favourite travel companion.

It has a 10-year lifespan and is 100% recyclable at the end of its life. The Circular Bottle is a leader in next-generation sustainability and helps you to drink more water, too. Now, that's what we call a great bottle!
4) Ukiyo deluxe scented candle with bamboo lid
Nothing says warmth and cosiness at home more than a new candle. This luxury candle is one of our favourites. Subtly scented with jasmine, once lit, it'll make your whole room smell like a zen spa. A real treat for the senses.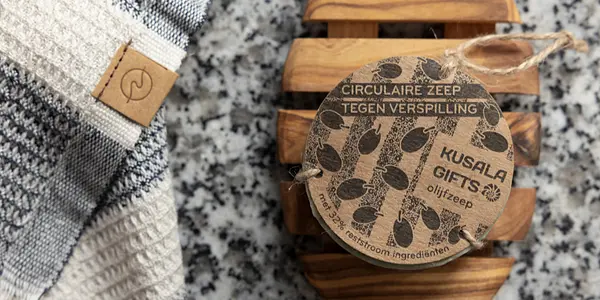 5) Circular olive soap
Feel squeaky clean with this 100% circular soap. It's made from leftovers from soap production, as well as olive oil that's past its expiry date. The olive oil is no longer suitable for eating, but excellent for cleaning. And did we mention it's handmade in the Netherlands? Eco-friendly AND a bestseller.
The best office Valentine's Day gifts
Showing authentic appreciation is key to building significant brand relationships, and giving great gifts is one of the best ways you can do this. 27% of businesses believe that giving gifts increases referrals, and helps to build positive working relationships.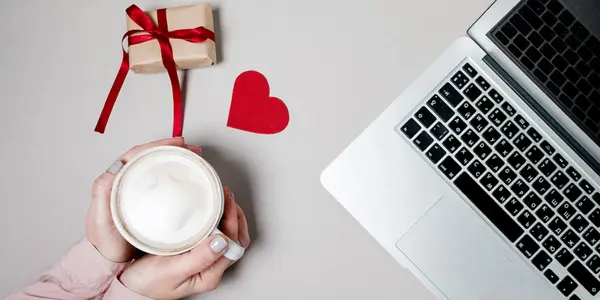 They're plenty of reasons why gifting is great for your brand, so why not use Valentine's Day as an excuse to start nurturing those all-important business connections?
6) Wee PAL 2.0
It might be small in size, but it packs a punch. Our new and improved wee PAL 2.0 doubles the capacity of its predecessor. Coming in with a punchy 6000mah of charge capacity, it'll charge all of the latest smartphones through its 2.4amp USB port. The wee PAL 2.0 is charged up using either the type C or micro USB ports. And as with all of the Power a Life power products, it includes the gift of a free, life-changing solar light for a child in a developing country. Buy one. Give one.
7) Teapot set with cups
Share a cuppa with your favourite person this Valentine's Day. This gorgeous ceramic teapot has plenty of room to serve up several cups of your favourite brew, plus the curved bamboo handle makes this an aesthetically pleasing addition to any office. And, how lovely are the matching tea cups?
8) Sushi dinner set for two
Sushi makes an ideal light office lunchtime treat. Enjoy the tastiest sushi with this beautiful sushi set for two. With two plates, two matching dipping sauce dishes, and two pairs of chopsticks, your lunchtime meetings will never be the same again.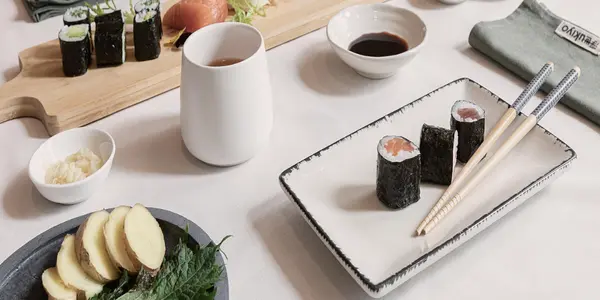 Our favourite Valentine's Day giveaways
Receiving the smallest of gifts in the mail, or as a giveaway at an event, can really boost your brand appeal and strengthen those business relationships with clients. That's why we love these Valentine's-themed giveaways. They'd look great at any conference, or would be the perfect addition to your next direct mail marketing campaign. And bonus: a lot of them are edible.
9) Valentine's Day raspberry heart chocolate truffles in eco kraft cubes
Cute. Delicious. Pink. Our little eco-kraft cubes filled with 5 delicious Raspberry heart-shaped truffles make the perfect swoon-worthy gift.
10) Milk chocolate bars
Nothing says romance like a bar of melt-in-your-mouth chocolate. Handcrafted in-house, this 3 Baton Chocolate bar is made from 41% delicious milk chocolate. Made from cocoa beans responsibly sourced from The Cocoa Horizon Foundation, it's sure to win over any sweet tooth.

11) Valentine's Day love hearts in eco kraft cubes
The signature Valentine's Day treat. Our eco-kraft cubes are filled with everyone's favourite Love Hearts.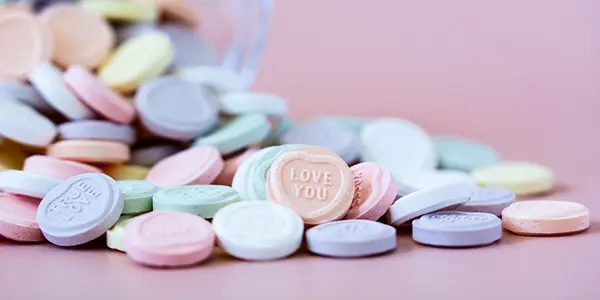 12) Hot chocolate spoons
Melt a few hearts this Valentine's Day with our dreamy, creamy milk hot chocolate spoons. Simply stir into warm milk, sprinkle on the marshmallows, drink and relax. You can even customise each hot choc spoon with a bespoke info card, for that personal touch.
13) Heart-shaped hand warmer
Are your hands getting cold on your morning commute? Share the love and instantly heat them up with this heart-shaped hot pad. Simply activate it by pressing the metal plate inside. Can be used again by placing it in hot water. No batteries required.
14) Heart-shaped keyring fob in recycled como
Show someone you care with this heart-shaped key fob. Made from high-quality vegan PU, como is recycled from waste plastic bottles that would normally go to landfill.
15) Hug mug
The plump round lines of the Hug mug make it the cuddliest mug on the market.
Branded gifts perfect for Valentine's Day
Rethink your Valentine's Day gifting with our favourite selection of merchandise perfect for sharing big brand appreciation. We love gifting, we've even shared our 7 gifting secrets for branding success. Or, why not check out our favourite branded little luxuries?
To explore the rest of our range of amazing promotional gifts, get in touch today.