Fluid Branding receives Feefo Platinum Trusted Service Award 2023

Natasha Ithildin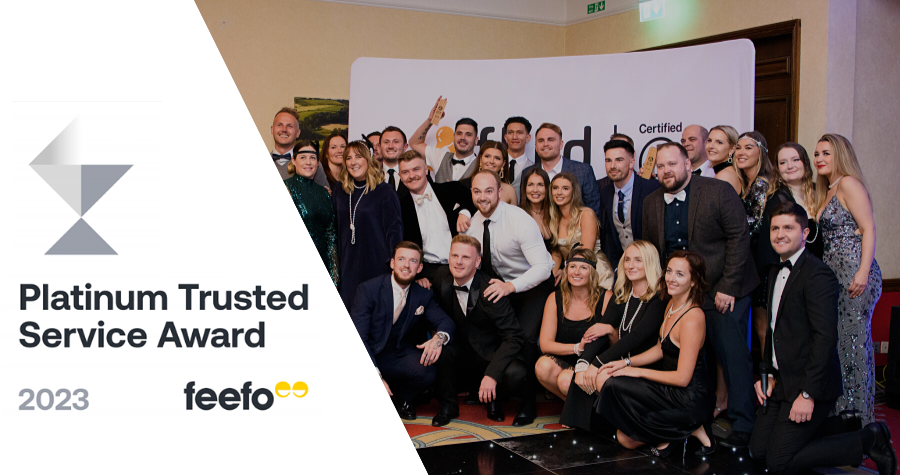 24 JANUARY 2023, Fluid Branding are excited to announce that they've once again won the Feefo Platinum Trusted Service Award for the 8th year in a row!
Feefo is an independent seal of excellence, which recognises businesses that consistently deliver a world-class customer experience. Established in 2014, it recognises brands that use the platform to collect verified reviews and receive exceptional feedback from their customers. The awards are unique because they truly reflect a business's dedication to providing outstanding customer service by analysing feedback from real customers.
Feefo has presented Platinum Trusted Service Awards to businesses that have achieved Gold standard for three consecutive years. To receive a Gold Trusted Service Award, businesses must have collected at least 50 reviews with a Feefo service rating of between 4.5 and 4.9 between 1st January 2022 and 31st December 2022.
This will be the 8th year in a row that Fluid have received a Feefo Platinum Trusted Service Award, and they are beyond thrilled.
Miles Lovegrove, Fluid's Managing Director congratulates the Fluid Branding team:
"We're absolutely delighted to receive a Platinum Trusted Service Award from Feefo, again! After the last few years of uncertainty, it's amazing news that we're still keeping our customers happy and are consistently exceeding high expectations. As always, we champion exceptional people with meaningful merchandise, and it's great that our teams have been acknowledged with this award, too. Well done, team!"
Congratulating Fluid Branding, Tony Wheble, CEO at Feefo, said:
"This year has been a difficult one for so many businesses. I'm delighted to recognise thousands of our clients that have overcome various challenges to provide such high levels of customer service and satisfaction.


The Trusted Service Awards have always been about recognising companies that go way beyond the norm in customer service and in turn receive great feedback from delighted customers.


A particular congratulations to Fluid Branding for winning a Platinum Trusted Service Award for providing great customer service consistently over many years. I look forward to seeing them continue to achieve next year and beyond."
Fluid would like to say thanks to their team for all the hard work making this award possible and to their clients for the fantastic feedback. Here's to another great year, with excellent communication and great collaborations!