How to use face masks effectively with your brand

Tom Mercer
Although lock down is slowly lifting, face masks will be here for a while. Here, we look at how you can turn this into a positive for your brand, and keep your campaigns on everyone's lips...
The industries and sectors that have had further emphasis placed on the use of face masks are based around interacting with people, in person. That seems pretty obvious. So when we're interacting with people, in person, what part of them are we looking at? Their faces.
One way to look at this is that businesses have been handed a completely new marketing space to use - one which guarantees impressions for their message. And, if used wisely, can actually have a humongously positive outcome for their campaigns.
Here are a few ideas that we've come up with, centered around how to get the best out of your use of face masks, and how to build great campaigns around them…
Don't use disposables
First of all, don't use disposable face masks. They're best saved for our fantastic health services and front line key workers, and the last thing we want to see is further supply issues for personal protective equipment where it's needed most. Using reusable face masks carries a truckload of advantages for businesses.
First of all, they're cost effective. If you do the sums, you'll find that reusing face masks works out a heck of a lot cheaper than using disposable masks. Secondly, it's kinder on the environment - it means less material heading straight to landfill after a single use. And best of all (from a branding perspective at least), they can be completely customised to whatever you need!
Use your brand colours on face masks
Many brandable reusable face masks offer full colour printing to the entirety of the mask. Some even offer Pantone matching, ensuring that your brand colours are represented perfectly. Thinking about it, it's almost an extension of a staff uniform.
Using face masks as part of your uniforms can say a lot about your business - that you're fully prepared and 'Covid Ready', that you've got this and know exactly what you're doing. You've got a handle on things when a lot of others haven't, and this will lead to strengthened trust and confidence in your brand.
Using your colours and branding on printed face masks is great for brand recognition
Use them to push products
Pushing further than simply using company colours to enforce brand presence, a great idea is to use this extra space to advertise your products. Everyone's eyes will be on these masks, so using the space to that extra advantage seems like a bit of a no brainer.
Think about the retail worker whose mask advertises the latest product offers. The hotel clerk advertising discounted room upgrades. The bar worker pushing certain drinks offers or happy hour times.
Bear in mind though, that what you're essentially doing is turning your workforce into human advertising space - so make sure it's something that they'd be comfortable wearing. With a little thought, it doesn't have to be too 'on the nose' (once again, sorry not sorry) - it could be a more subtle message. A beautiful image of a product, perhaps, or a simple, one word question.
A good idea is to have a variety of options that staff can wear. Perhaps different offers are valid at different times of day, or certain members of staff are more skilled in a certain area? You could even get different designs based upon the department that a team member works in…
Imagery of fresh fruit and veg for members of Produce teams in supermarkets, and bottles of beer and wine for the Beers, Wines & Spirits department? How about an illustration of some speakers for those working in the Audio department of electronics shops, and TVs for those in the Television department? The possibilities here seem to be endless - let your imagination run riot!
Promoting product offers or specials through printed face masks can be a great way to drum up business
Always be responsible
Let's not forget though, that these measures are in place to help stop a global pandemic, and reduce the spread. Always ensure that masks issued to staff members remain theirs and theirs alone. It is all of our responsibility to work together to stop Covid-19, and with carefully applied procedures and processes, we can do just that.
Offer a choice of branded face masks to customers
We all know the phrase - "to ERR is human". You can pretty much guarantee that there will be customers that forget to bring their face masks when leaving the house. You can guarantee even more that they'll hugely appreciate you helping them out by taking away the risk of a fine!
By offering branded face masks - either on a complimentary basis or for a small charge - to customers that visit your business, not only are you helping them out - you're sending your brand out into the wider world. If your design is pleasing enough, they'll continue to wear the masks on a day to day basis, and massively increase your number of valuable impressions, spreading your brand reach far and wide!
To do that, you've got to come up with something that someone wants to wear. Try to be creative with your designs - maybe a bit cheeky if your brand tone of voice allows. Either way, a good idea is to offer a choice of designs to your customers.
Think for example in a pizzeria - having a selection of masks printed with different pizza toppings, so the customer can choose their favourite toppings or pizza flavour? Or in a cosmetics outlet, offering different shades of lipstick or foundation? Once again, the possibilities are only limited by your imagination.
...or ours, that is. If you'd like some further help and inspiration in choosing the right messaging or designs for your branded masks, we have a whole team of branding experts that can help you arrive at that perfect solution.
Offering a selection of different, funky face masks to customers will help to keep your brand on everyone's minds
Remember - be creative, cheeky and fun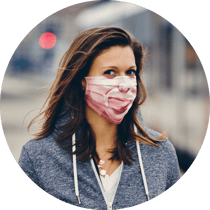 The more creative you can get, the more likely it is that your masks will be a talking point for customers and teams. Remember - be creative. Make an impression. It could keep people talking for a while.
I hope this article has helped get the creative juices flowing. Have you got a great idea for a great set of masks? Get in touch with a member of the team today and we can get the ball rolling straight away.