What being B Corporation Certified means for us and for you

Gemma Richards
In 2019, we became a Certified B Corporation. We're actually the first UK promotional products company to be a certified B Corporation.
So we thought we'd delve a bit deeper - to explain why we decided to embark on this journey, what it means to us and, most importantly, what it means to you - our customers...
Firstly, let's explain what being a certified B Corporation means: In a nutshell, B Corporations are leaders of the global movement of people using business as a force for good™. This community of companies includes leading brands worldwide.
The ambition is to inspire the wider business community to compete, not only to be the best in the world, but to be the best for the world.
We're super proud to be part of this movement to redefine success in business and build a more inclusive and sustainable economy, meeting higher standards of social and environmental performance, transparency, and accountability.
We're also in great company being a B Corp, amongst fabulous brands such as; Patagonia, Innocent, Finisterre, Ben & Jerry's, Danone, Method and The Body Shop.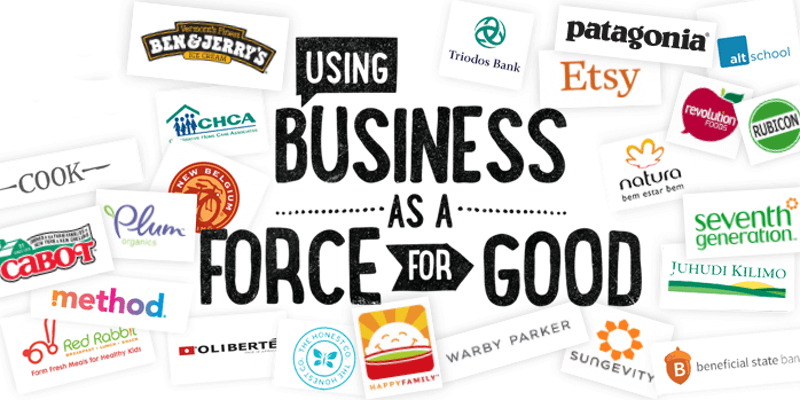 Why did Fluid become a certified B Corporation?
We started the company with a purpose to be different, to innovate, to challenge the status quo and rethink how the merchandise industry had 'always operated'. The industry was full of companies doing things the same old tired way, ignorant of technology and resistant to change. More than anything, we wanted to provide a service and products that resonated with our customers in terms of relevance, convenience and quality.
We believed that the way to disrupt an industry that had yet to evolve would come from our team and our culture. A team of exceptional people, with a strong ethos for innovation, change, and for 'doing things the right way' is what has fired our success. Challenging what we do and how we do it, as an industry, as a company and as individuals, is a core value we have always believed in at Fluid.
Way back in 2006, we launched 'Eco Incentives' as an environmentally-led sub-brand of Fluid. It soon became clear that our eco range was becoming less of a niche and more of a central part of our core business and ethos, and so we merged it into our core brand.
To further develop our commitment to our people, the environment and our communities we established a 'purpose framework' which we designed to ensure that we are always being the best in everything we do. Our three pillars - Fluid Friends, Fluid Family and Fluid Futures - articulate our business ethos beyond profit and help to govern the commercial decisions we make.
This drove our desire to strive to become a certified B Corporation company, which totally fits with our business ethos and is a manifestation of our ethics, values and vision:
Meaningful Merchandise - encouraging customers to make informed product choices that reduce environmental impact and last longer, as well as giving the best brand impact, and
Exceptional People - giving everyone who works for us and with us, the opportunity to be the best they can be, to do amazing things for our customers, themselves and for the community.
B Corporations are redefining success in business to build a more inclusive and sustainable economy, meeting higher standards of social and environmental performance, transparency and accountability and we're very proud to be a part of this global culture shift. There are now over 4000 Certified B Corporations from more than 150 industries in 70+ countries!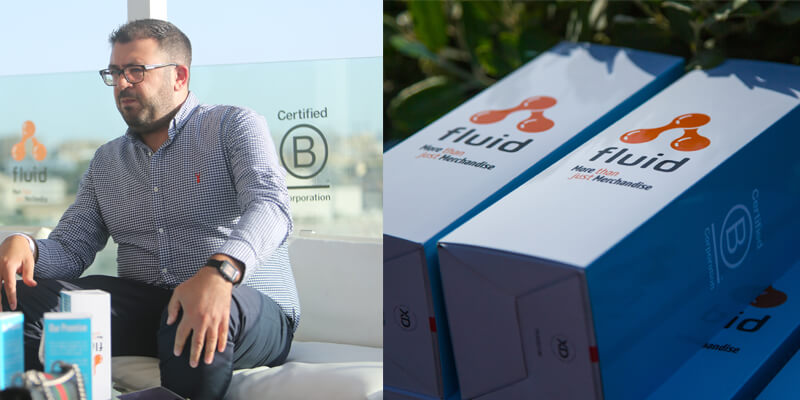 So what does this mean for our customers?
Given the current uncertain political climate and the very real environmental concerns that we face, such as disposal of plastics, air and ocean pollution, global warming and climate change, we are all (as consumers) increasingly looking for companies to purchase from whose values align with our own, companies that are authentic and responsible and that actually live up to the claims that they make.
We're at the beginning of our B Corp journey, it takes a lot of continual hard work and commitment to be certified. It means that unlike traditional corporations, Certified B corporations are legally required to consider the impact of their decisions not only on their shareholders but also on their workers, suppliers, communities, consumers and the environment.
Being a certified B Corporation means that as a customer you can rest easy knowing that we have a true, honest and effective commitment towards using business as a force for good, both environmentally and socially. You can use our certification as a stamp of approval when deciding which businesses to trust and to buy from with integrity. No greenwashing here!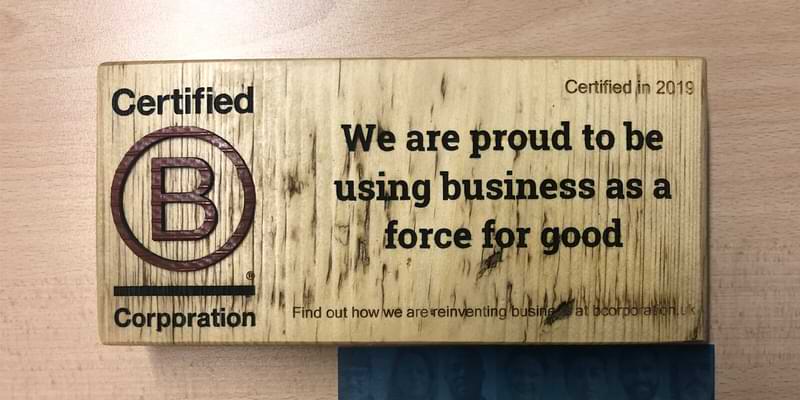 We've put together a promise that articulates our commitment to always deliver the best for our customers.
We want to be judged by the great things we do - not just what we say.

We'll always strive to deliver products with maximum brand impact, but also minimal impact on our environment.
We'll endeavour to give back to the community and projects that benefit others, not just ourselves.

We promise to be responsible, which means that our drive to help inform better product choices goes beyond the pursuit of profit.

We are continually looking for ways to do things better, which means we listen to ideas, start conversations and embrace small changes that can make our industry a better place.