We've recertified with B Corp! Here are 10 reasons why you'll love this

Natasha Ithildin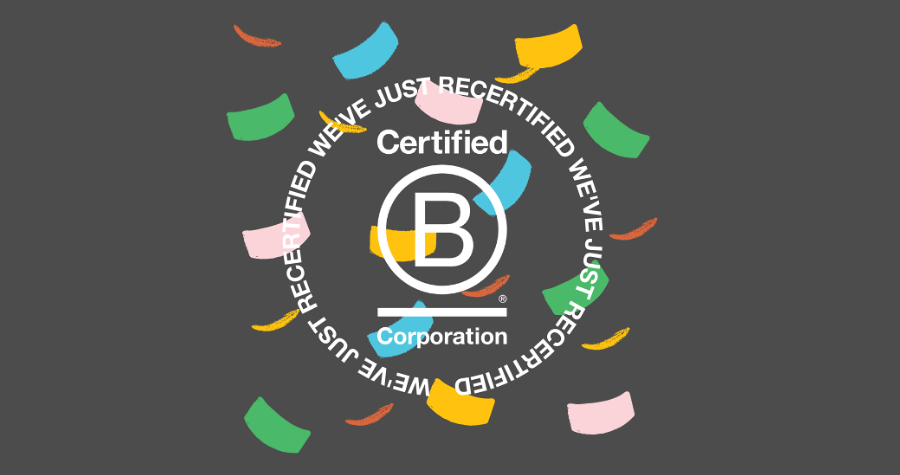 We're pleased to announce that we've successfully received our B Corp recertification!
Following a complex evaluation and verification process across the four areas of Governance, Workers, Environment, and Customers, we're delighted to be re-awarded with our B Corp status.
This is a big deal for us and one of our biggest achievements to date, and we're so happy to be able to share this with you. We were the first promotional merchandise company in the UK to gain B Corporation certification back in 2019 and we're keen to continue redefining what success in business looks like.
Firstly what's a B Corp?
If your business has earned B Corporation status, it means you're a leader of the global movement to help people use business as a force for good™. This community of companies includes well-known leading brands worldwide (think, Ben & Jerry's and The Bodyshop), and we're happy to say we're part of a growing team of amazing brands!
You can read more about what the B Corp certification means to us (and you) if you're keen to find out more.
What's your legacy?
Why we love being a B Corp
Being a B Corp means we're held accountable for what we're claiming to achieve for the planet. It's about redefining success in business, building a more inclusive and sustainable economy, and meeting higher standards of social and environmental performance, transparency and accountability.
Given the current environmental concerns that we face, we are all (as consumers) increasingly looking for companies to purchase from whose values align with our own, companies that are authentic and responsible and that actually live up to the claims that they make.
That's why we love being a B Corp. It holds us accountable for achieving our goals of being as eco-friendly and sustainable (for people and the planet) as possible.
We also love being a B Corp because…
It helps us achieve our goal of Meaningful Merchandise
We love encouraging customers to make informed product choices that reduce their environmental impact.
We love working with Exceptional People
Being a B Corp means giving everyone who works with us the opportunity to be the best they can be, and to do amazing things for our customers, themselves and for the community.
It helps us towards achieving our goal of being Carbon Net 0 by 2030
We want to be Carbon Net 0 by 2030. Being a B Corp means we're part of a like-minded community.
As well as our mission to plant a tree with every order
As a B Corp, we're dedicated to finding ways to do things better for people and our planet. Our mission to plant
#ATreeWithEveryOrder
is just one way we're achieving our goal.
10 reasons why you'll love this
1) We'll help you make a difference
Because our aim is to make a difference. By working with us, you'll be making a difference, too.
2) You can trust we're doing our best
We measure the effectiveness of all our decisions and are held accountable for any changes. This means that you have the reassurance that we're doing our absolute best, whilst still continuing to strive for even better.
That was the whole ethos behind our recent
#BetterBusiness
campaign, where we encouraged businesses to make a 'positive pledge' to do and be better.
What's your positive pledge?
3) We champion effective, positive, change
Our goal is to do better and be better for people and the planet. We want to cheer on and support positive change within the industry, be it a move towards more sustainable merchandise, or brands that are doing great things, like Power a Life, for example. You'll know we'll only ever share the best with you.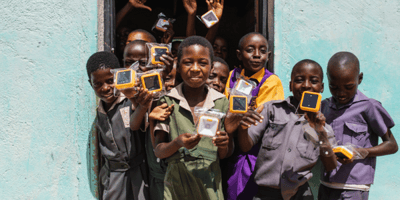 4) We have a triple bottom line of people, profit and planet
With initiatives such as our #ATreeWithEveryOrder and Meaningful Merchandise, you can trust that we're not in this just for the profits. There are more important elements at stake. For us, it's always been More than just Merchandise.
5) You'll help us give back to our community
Being a B Corp means we're held accountable for what we pledge. If you think we could be doing something different, please reach out to us and let us know. It's all part of our growth in this amazing B Corp community.
7) We're passionate about making this industry a better place
We're continuously learning and doing more with what we learn! We're passionate about making a difference, so you know we'll always recommend the best, most sustainable, most
eco-friendly
, or
socially conscious
products
for your next campaign.
We also work with several specially selected social enterprises which are changing the world for the better. Check out some of the inspiring stories and products surrounding those businesses we work with by checking out our Products with a Positive Impact.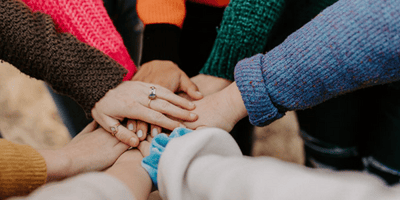 8) We're with you for life
We don't want to recommend cheap giveaways, that's just not what we're about. Items that aren't in it for the long haul aren't our bag. We want to help you find products for life, be it reusable coffee cups or sustainable clothing.
9) We're full of great, innovative ideas
Being part of the B Corp community means forever thinking outside the box and questioning ourselves: "could we be doing more?" We're about discovering brand-new, innovative ideas and we can't wait to share them with you.
10) We want YOU to do better, be better
Because that's what being a B Corp is all about. We can't wait to have you join us on this journey!
Let's celebrate our B Corp
recertification!
We know there's lots more work to be done, but it's great to see businesses being used as a force for good. We love working with you to make a difference and a lasting impact.
You can find out more about our B Corp certification journey here, or if you're interested in checking out some of our best-selling eco-friendly & sustainable promotional merchandise, get in contact today by filling out the form below.