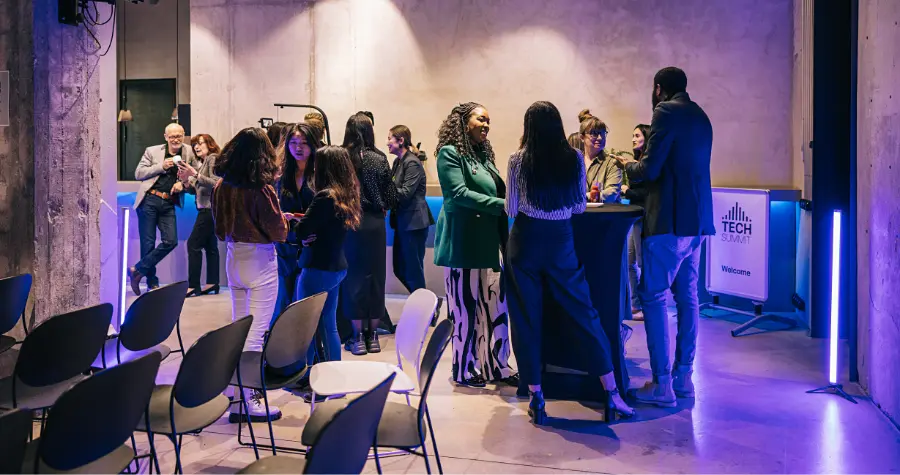 If you're looking for quality-made merchandise that'll lower your carbon footprint, look no further than our favourite UK-made branded product picks.
This week, we're focusing on UK-made branded giveaways to help you make that ultimate brand impact at your next event.

Interested in browsing more of our UK-made branded products? You can check out our entire UK-made merchandise selection, or get in touch for your free consultation with one of our merchandise consultants today.
Our favourite UK-made merch: event giveaways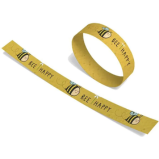 1. Seeded paper wristbands
These are excellent for awareness campaigns and special events, plus are an eco-friendly alternative to plastic. After the event, the lucky recipient can plant it to grow flowers!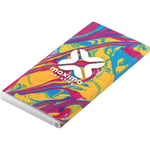 2. Chocolate bar
Everyone loves chocolate, right? This luxurious 90g milk chocolate bar is manufactured in the UK with a full-colour wrap for the tastiest brand message.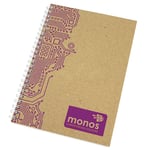 3. Enviro-Smart wiro notepad
Make taking notes easy with this recycled card notebook. And good news! It's manufactured in the UK in a Carbon Zero factory.
Read more: The only conference exhibition checklist you need to succeed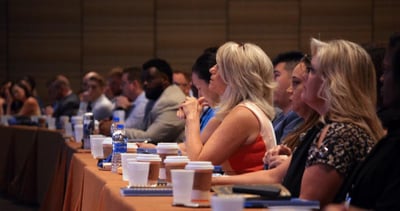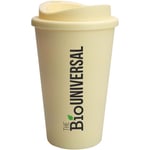 4. Tumbler
Your brand will be the first thing your client sees in the morning with this reusable branded coffee cup - making it the perfect giveaway. This tumbler is recyclable and can be quickly broken down by microbes when disposed of - amazing!


5. Eco mints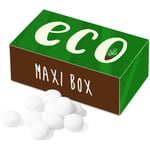 Keep your clients minty fresh with your very own branded mint giveaways.
This box is made from FSC Certified card and can be recycled or composted when you're finished with it.


6. Recycled trolley coin keyring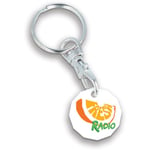 With £1 coins disappearing faster than the office biscuit stash, a trolley coin is essential for that weekly trip to the supermarket. Get one of these with your logo on and rest assured your clients will love it. This one is made in the UK from recycled plastic and digitally printed in full colour as standard.


7. Happy balm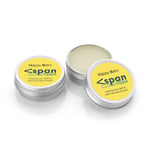 Make sure your clients always start the day happy! Perfect for both the harsh winters and hot summers, this multi-purpose balm for the lips, hands & body is formulated with a stunning blend of grapefruit, lemon and spearmint.
Read more: 14 sustainable giveaways to get REALLY excited about
8. 500ml Tritan sports bottle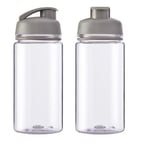 When out and about at events, it can be hard to remember to drink that all-important H2O. Gift your clients this branded promotional bottle and make their day. 100% UK-made and 100% BPA-free.


9. Eco jolly beans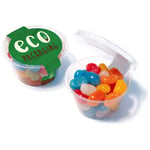 Everyone likes free sweets! This maxi plastic-free eco pot is filled with our delicious jolly beans, perfect for that sugary pick-me-up. The pots are made from plant-based materials, and once enjoyed, can be disposed of in commercial food waste recycling to compost.
10. Recycled 30mm keyring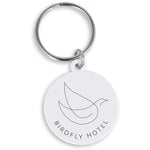 Want a classic giveaway? You really can't go wrong with a branded keychain. Made in the UK from recycled plastic and digitally printed in full colour as standard.


11. Recycled circular badge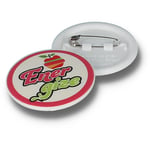 Make your giveaways fun to collect with these circular button badges! Made in the UK from 100% recycled plastic.


12. Standard Seedsticks®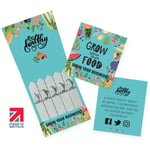 Unique, customisable, and memorable. Seedsticks are iconic in the plant merch world. They look like a traditional book of matches, but they ignite your imagination instead. The seeds are attached to biodegradable sticks using natural glue, which is very eco-friendly - and an amazing giveaway!
Read more: Bored with your business card? Here are 11 exciting merchandise ideas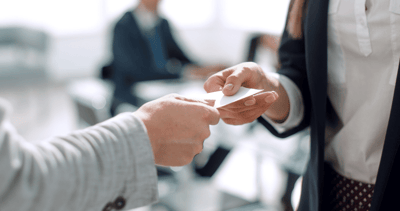 Make an impact with merch
Because UK-made merch is better for the planet (as it reduces your carbon footprint) and better for your brand.

Make your event giveaways the ones they keep with our very best in UK-made merch.

Plus, hot tip: UK-made products usually have a faster turnaround time for your all-important last-minute merchandise needs.
Interested in finding out more? Check out our entire UK-made merchandise selection, or get in touch for your free consultation with one of our Merchandise Consultants today.