Watch these big brand Christmas adverts for 2023 marketing inspiration

Natasha Ithildin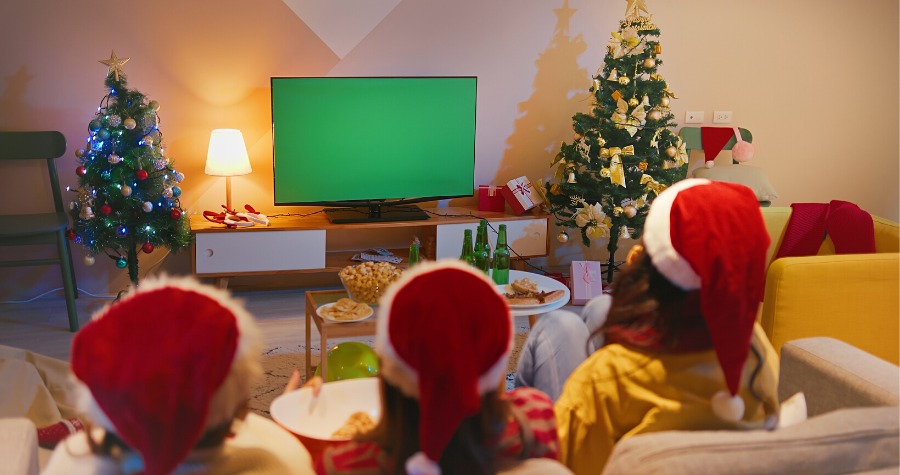 Christmas is always full of the best creative marketing campaigns. They're not just fun, but also a great opportunity to inspire your own campaigns for the year ahead.
This year, System1 (they test the effectiveness of marketing campaigns), has had to increase their Christmas Top 10 ads to a Top 12, because collectively, 2022's Christmas ads performed better in their testing than any previous year's! Let's take a look at your favourite Christmas ads of 2022 to see why they're so popular, as well as what you can learn from them to inspire your 2023 campaigns moving forward.
8 Christmas ads to inspire your 2023 marketing campaigns
1) Coca-Cola
It wouldn't be Christmas without Coca-Cola's Big Red Truck tour. The 1995 advert has been running every year since, with this year being no different.
For many, Christmas hasn't begun until there's the familiar chant of "The Holiday's are Coming" in the air. The campaign isn't just about encouraging people to purchase more Coca-Cola, it's also about charity.
This year, Coke's Big Red Truck tour supports FareShare, the UK's biggest charity fighting hunger and food waste. Their aim is to donate the equivalent of 100,000 meals by the end of the holiday season.
This advert is a great example of nostalgic marketing, connecting the happiness of Christmas with your favourite childhood beverage: Coca-Cola. It's also a great example of using advertising for good.
2) John Lewis
Oh boy, John Lewis' Christmas ad definitely pulled at our festive heartstrings this year!
They shied away from promoting products and instead focused on the emotional connections that can grow out of opening your home up during the holidays.
Titled 'The Beginner', the advert builds on the launch of John Lewis' 'Building Happier Futures' campaign, which is a "long-term commitment" to help young people with experience in the care system.
What's great about this ad is that it isn't a brand-building one, you're not even aware it's a John Lewis ad until the very end. It's purpose-driven, and that's why it's so effective.
It's about being bigger than your brand, about looking outside the parameters of what you sell, to seeing what good you can do instead. Well done, John Lewis!
3) Asda
Asda's "Have your Elf a Merry Christmas" has been the top-rated ad of the year, with a 5.9-star rating. With Buddy the Elf being Asda's newest employee, you can't help but fall in love with his optimism and Christmas spirit.
Jon Evans, System1's chief customer officer, notes, "Right now, the likes of Kevin the Carrot, Farmer Christmas, and Buddy the Elf are bringing a spot of much-needed cheer, but in the long term, strong performances now will be good for brands and businesses when the economic gloom lifts."
Bring laughter and joy back to your campaigns in 2023. Everyone needs a pick-me-up now more than ever, and consumers will thank you for bringing a smile to their faces.
4) Cadbury
Cadbury's Secret Santa campaign is back, and this year, it's even bigger! As the jolly postman notes in the ad, posters will be popping up all over the UK on the run-up to Christmas Eve, giving users the opportunity to send one of 120,000 secret free chocolate bars to someone they know.
All you have to do is find one of the elusive posters, and scan the QR code. The catch - digital posters will appear at random, with no hint as to where the next one will be.
"We are thrilled to be celebrating another year of selfless festive giving with Cadbury Secret Santa," says senior brand manager for Cadbury Christmas, Emma Paxton.
We love this ingenious use of QR codes and wholeheartedly believe you should incorporate them into your 2023 merchandise campaigns, too! Find out why here.
5) McDonald's
Another brand bringing all the emotions this year is McDonald's with their 'The Alternative Christmas List' campaign.
The ad focuses on little Alfie with his ever-growing Christmas list to Santa. Unfortunately, thanks to a strong gust of wind, he loses his list, and we have to watch it fly off as Alfie is grief-stricken.
In an effort to cheer him up, his Mum and Dad take him to McDonald's. Afterwards, you find out the most important thing on Alfie's list was to enjoy Christmas together, as a family.
No, you're crying. This is an example of emotional marketing at its best.
6) Aldi
This nod to a Christmas favourite is met with warmth and delight from viewers.
Another perfect example of nostalgic marketing, Aldi has left their clever carrot mascot Kevin 'home alone' this year, and we love seeing the antics he gets up to.
You'll find yourself chuckling along with Kevin's adventures. This is surely going to stick with you all through the festive season, especially thanks to the humorous ending. 2023 will be the year of bringing laughter back to your campaigns.
7) Mars Wrigley
Mars Wrigley is basing their Christmas campaign around the debate that's taken the internet by storm: #BringBackBounty.
Considered the most unpopular chocolate in the festive share tin, Bountys have long been scraping the barrel when it comes to our affections. Now, it seems Mars Wrigley has listened to us and finally removed Bounty from their collection.
But, thanks to a very moving ad entitled, "Lonely bounty", you can't help but fall in love with this coconut softie, and people are urging for Mars to #BringBackBounty.
It's a great example of disruptive marketing that extends beyond the ad itself. The ad effectively ends with the phrase, "You don't know what you've got until it's gone".
So true, Bounty, so true.
8) Co-op
Co-op turned traditional Christmas marketing on its head this year, with no Christmas ad in sight.
Instead, they used their multi-million pound ad budget and partnered with the membership-based food scheme and community hub Your Local Pantry. Their aim is to help households tackle the cost of living crisis this Christmas. At Your Local Pantry, members pay a small subscription of approximately £3.50 a week for around £10 worth of food. It's an excellent way to ensure there'll be food on the table come Christmas Day.
Mel Matson, Co-op's director of customer proposition and communications, says, "Rather than spending multi-millions of pounds on a traditional TV advert this year, we felt the best way to show our commitment to making things a little fairer for our communities, is to pull our Christmas ad altogether, to channel our resources to highlight a hugely important community-led food scheme, which offers choice and dignity when times are tough."
Reminiscent of Patagonia's 'going purpose' campaign from earlier in the year, it's about putting your money where your brand is when it comes to your overall ethos.
It's about supporting those that need it most. And, the story is great marketing itself, so it's a win-win for all sides. Instead of 'going public', you could say Co-op are 'going purpose'."
Are you feeling inspired yet?
Which ad was your favourite? You can check out how all these ads (and others) were rated here. We love the feeling of community spirit that's permeating through the majority of these ads.
With a harder Christmas than usual on the horizon for many, bringing families and friends together is more important than ever this year.
For more gifting ideas, why not check out our list of our favourite sustainable gifts? Or, how about adding a little touch of luxury into your next campaign? We're here to help you spread your brand cheer all through the year, so don't hesitate to get in touch today.