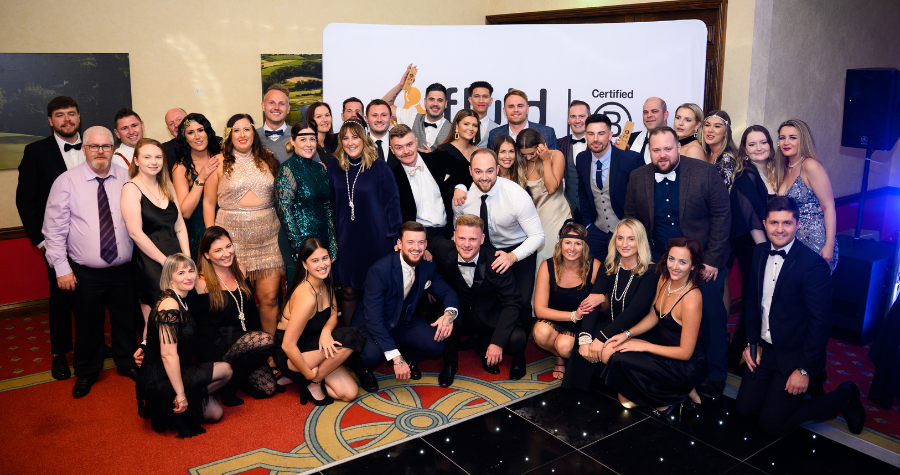 What a year it's been! From learning to excel in a post-lockdown world, to getting back into the swing of face-to-face meetings - this year has certainly been a whirlwind. With 2023 now on the horizon, we wanted to celebrate all we've achieved together over the past year. That's why our 2022 conference theme is: Growing Together.
Because that's what life is all about, right? It's about rolling up your sleeves and getting involved. It's about defining and sticking to your values. It's about taking that one giant leap into the future and trusting your instincts, together.
And that got us thinking. What better way to launch headfirst into the new year than by stepping back in time… to the 1920s, to be precise. Into the era of The Great Gatsby, glitz and glamour. To a time when innovation was key, and tantalizing new opportunities were on the horizon. It would be a conference to remember, that's for sure.
And it certainly didn't disappoint.
Welcome back
Our conference was once again held at The Celtic Manor, a lovely resort in the depths of the Welsh countryside. We spent Friday afternoon exploring, catching up with old friends, and getting settled into our new home for the weekend.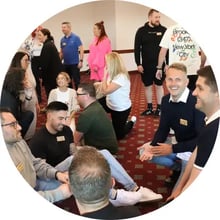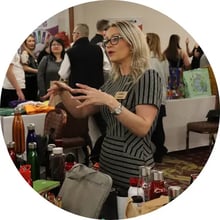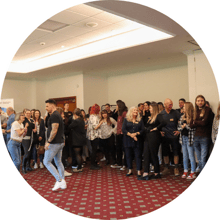 Upon arrival, we were greeted by the amazing conference team and handed our very own bamboo name badges and gift bags. Always a highlight of the conference weekend, we couldn't wait to open our bags and see what treasures they held. A sneak peek revealed the coveted Tony's Chocolonely (a great and tasty B Corp), as well as a notebook made out of old milk cartons! Loved by all, these gift bag goodies were handy AND delicious.
Quizzle me this
Friday night wouldn't be a Friday night at the Fluid Family & Friend's Conference without the celebrated quiz! This year's definitely put our general knowledge to the test. In between puzzling questions, we were able to chat and discuss the events of the last year, network, and put names to faces. There was also a delicious buffet with a whole array of tempting treats to keep our discussions fuelled and our minds sharp.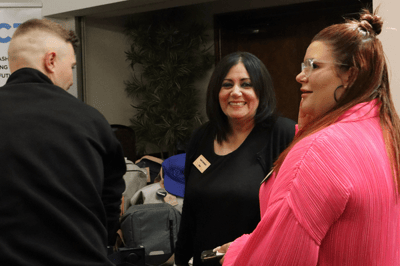 With day one under our belts, many opted for an early night, ready to get up bright and bushy-tailed for Saturday's exciting activities.
It's showtime!
Saturday is always a jam-packed day full of meetings, speeches, and, the cherry on top, the awards dinner. But before all that, the first activity on our agenda: our Supplier Showcase. This is always a great opportunity for us to chat with our favourite suppliers about what's been inspiring them over the last year and what new exciting products are due out soon.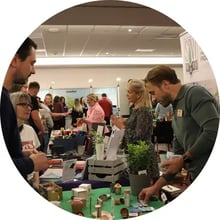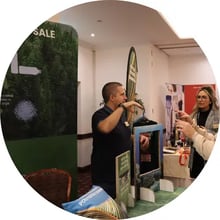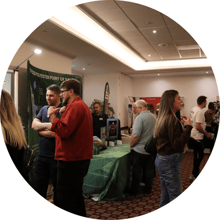 We love opportunities like this to re-align with our Fluid Friends, build trust, and grow. We genuinely had some amazing discussions during this dedicated time, and it's a popular weekend highlight. Thanks again to all our suppliers that made this epic!
Defining your operating rhythm
After the showcase, it was time for Miles to give his eagerly anticipated keynote speech. This was an enthralling take on how best to define our own operating rhythm. He spoke about how our operating rhythm can be defined as the values and ethics that bind us together, and that it's about finding our purpose for waking up in the morning (or, ikigai). We want to ensure we always embody being exceptional people, not only for ourselves but for our clients and suppliers, too. The speech was captivating and empowering.
"Remember, your operating rhythm comes from purpose, productivity, and hard work!"
What's your operating rhythm?
Guest speakers
Following Miles' speech, we had presentations from both Tracy Clark and Justin Featherstone. Tracy spoke about unlocking our potential, how to overcome mental barriers, and how to stop ourselves from being our own worst enemies. This was combined with a quick 5-minute meditation activity, which everyone thoroughly enjoyed!
On the other hand, Justin Featherstone discussed the power of compassionate leadership. This was an enthralling take on what it means to be a good leader. His presentation captured our attention with his empowering storytelling, and by the end of it, the room was buzzing with ideas on how to be better leaders in our own lives, and not just at work.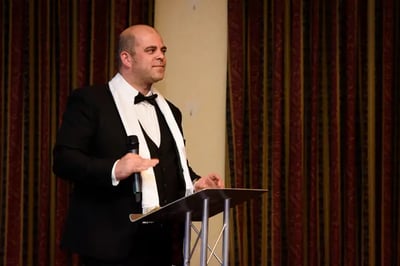 A-Team building
After a delicious buffet lunch, our main afternoon activity was a selection of team-building break-out sessions. It's fair to say our competitive personalities shone through, especially with an exclusive cocktail on the line! It was great to see everyone getting involved, and a lot of laughs were had.
At around 3 o'clock, the winners were announced (well done, red team!) leaving us with just enough time to get ready for the evening's main event, and perhaps even enjoy a game of golf or two.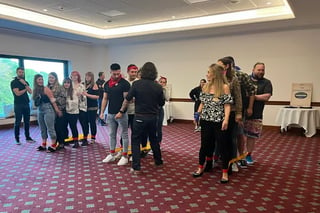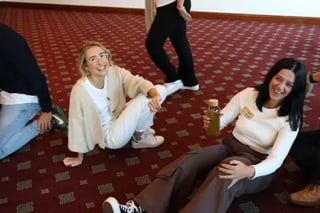 The Great Gatsby
Dressed to the nines in all our glitz and glamour, everyone took a step back in time for the evening's celebrations: to the era of The Great Gatsby and the roaring 1920s.
There were magicians and dancers, a delicious dinner, and a superb array of mouth-watering cocktails. We're sure you'll agree, everyone looked fantastic, too!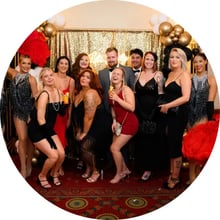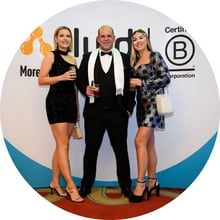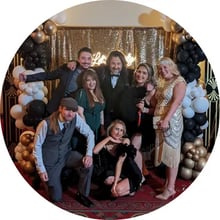 The music was amazing, and the atmosphere was electric. Everyone had a lovely time, with Jamie from DTB saying:
"A massive thank you to you both and the Fluid Family for such an awesome weekend. Great to see you all and have a good old catch-up, the Fluid Conference weekend is one of my favourites and never disappoints and this year was no exception. Was great to see so many embrace the Great Gatsby theme."
As you can see from the pictures, everyone fully embraced the theme. There were feathers, there were diamonds: the evening was the epitome of glamour. Overall, the evening's atmosphere was one of celebration, which was of course topped off with our distinguished awards ceremony.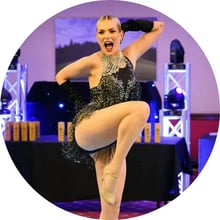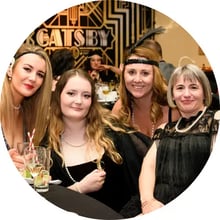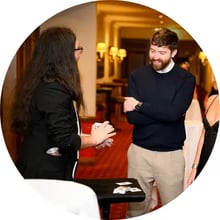 You've won!
Looking around the room, everyone was on the edge of their seats with nail-biting anticipation for who would win one of the distinguished 2022 Fluid Awards.
Drum roll, please… Here are the 2022 Fluid Award winners:
Fluid Friends awards
| | | | |
| --- | --- | --- | --- |
| Customer Service Team of the Year | Finance Team of the Year | Best Marketing Support | Fluid Futures Leader |
| Pinpoint | CHX | PF Concept | WCM&A |
| | | | |
| --- | --- | --- | --- |
| Deadline Champion | Account Manager of the Year | Specialist Supplier of the Year | Supplier of the Year |
| Laltex Group | Sophie - XD Connects | Juniper | XD Connects |

Fluid Family awards
| | | | |
| --- | --- | --- | --- |
| Bright Beginnings Award | Company Values Award | Learning & Development Award | Most Profitable Sales Person |
| Nicola Grant | Nicki White | Tommy Wills | Vicki Crosby (Global & Strat) & Josh Bristow (Online) |
| | | | |
| --- | --- | --- | --- |
| Support Hero | Sales Hero | Team Awesome | Pinnacle Award |
| Dan Avery | Kevin Wickett | Sales | Bronte Creary |
| | | |
| --- | --- | --- |
| Special Achievement Award | Inspirational Leader of the Year | Stand Out Moment of the Year |
| Finance - Special mention to Jo Mitchelmore | Marc Barbery | Booking.com onboarding team |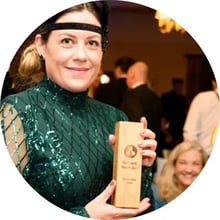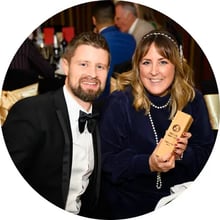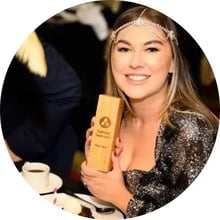 An especially big congratulations to XD Connects, who left with two awards! A thrilled Paul (XD Connects) said:
"I just wanted to say congratulations to you and the whole team on a fantastic and well-organised (again) conference over the weekend.
We are delighted and honoured to receive the Supplier of the Year award and Sophie is over the moon to receive Account Manager of the Year so thanks to everyone at Fluid."
Cheers were had and well wishes shared as winners and highly commended teams were announced. Congratulations to all those that won, and good luck to others for next year! It's our way of saying thanks for all your hard work, and we know you'll smash it again in 2023.
Thanks, Fluid Family & Friends

The Gatsby fun lasted long into the night. Overall, this year's conference was praised as being the best yet! We all ended the weekend with a sense of pride, and anticipation of our future potential. We are certainly ready to greet 2023 with enthusiasm and gusto! We're excited for you to join us in this exciting new year.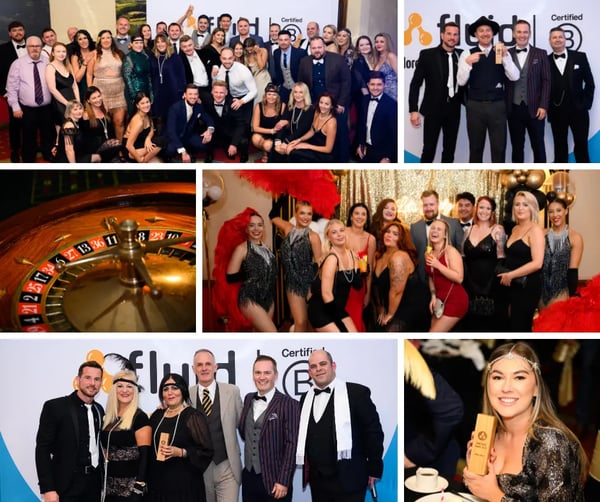 A big thank you to the conference team for organising such an amazing event, as well as to all our suppliers who made it so awesome - we couldn't have done it without you! As Matt at Desktop Ideas put it:
"What a professional, enjoyable, and fun event over the weekend – massive well done to all the organising team!"
We couldn't have said it better ourselves, Matt!
If you're interested in how we can add a bit of glitz and glamour to your own conference, get in touch today and we'd be happy to make your conference one to remember with exceptional and meaningful merchandise.