Fluid Family Awards & Virtual Conference 2020: An Internal Case Study

Gemma Richards
Every year around October, Fluid hosts their annual 'Fluid Family Conference & Awards'. It's a great opportunity for everyone in the whole business to get together over the course of a weekend to celebrate success, learn from each other, and make plans for the future.
This year, things were a little different due to the whole COVID-19 situation putting a kibosh on live events. But we didn't let that stop us…
Fluid is always moving forwards, and as well as our virtual awards, there were plenty of exciting things that we needed to release to the team. As we were unable to meet up in the usual way this year, the choice was plain: we needed to host a virtual Zoom conference for the whole team.
The Challenge
Throughout the epidemic, the Fluid Family has done a fantastic job of adapting to a working-from-home environment. But a virtual event doesn't have that captive audience aspect that a physical one does, and during an evening with many of the team joining from their own homes, we needed to come up with a way to ensure engagement didn't suffer.
Our events team were challenged with sending a special something to all members of the Fluid team to enjoy from the comfort of their own homes whilst the evening progressed. Each item would need to be individually mailed to 100 different home addresses, and any packaging would have to have minimal impact on the environment whilst delivering maximum brand impact.
They were also tasked with including contents for the launch of the Fluid Branding Training Academy - a new online learning platform designed to help the team progress and develop within the Fluid Family.
Individually mailable. Engaging. Eco friendly. Impactful. Useful and informative. Bring it on.
The Solution
After discussing various ideas, the team decided to produce Delegate Packs for everyone ahead of the event - a goodie box filled with treats and supporting materials.
The mailable outer boxes included a smaller ribbon tied box of tasty nibbles and pre-mixed cocktails for everybody to enjoy, along with the bespoke contents for the Fluid Training Academy. Each element of the goodie boxes was carefully selected to ensure the majority of the packaging was fully recyclable and could also be branded. These fully branded boxes included bespoke printed card inserts, which enabled the team to send a message - giving the box a more personal touch.
And, as required, the events team were also able to arrange for each box to be mailed out individually, ensuring everyone received them on time.
The Results
The goodie boxes received nothing but positive feedback following the event. It was a joy to see employees taking pictures and posting the contents via social media.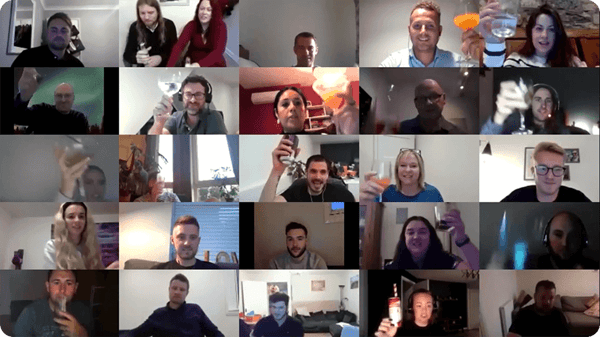 Everyone on the call raised their cocktails and shared a toast with the Fluid Family - and the nibbles went down a treat!
Fluid's Managing Director Miles Lovegrove was able to share a successful demonstration of the new Fluid Training Academy with ease, as all supporting materials had been posted within the boxes. All in all, the delegate packs were a big hit in terms of delivering a well received thank you and celebratory gift to attendees. They helped to connect the teams across huge distances, whilst echoing the brand's values and ethos.
Other highlights from the evening included a beautiful karaoke rendition of Sweet Child of Mine (naming no names), dinosaur costumes, the return of Wheely Happy, and a truckload of laughter.
We ♥ the Fluid Family.
Get in Touch…
As well as producing top notch gift boxes for our own virtual conference, we're well versed in creating bespoke packs for all kinds of events - virtual or otherwise. If you want to know more about our capabilities, or have an idea you'd like to get off the ground, all you need to do is get in touch.