Did you know that 1 in 4 people will experience a mental health problem each year in England? The most common of those mental health problems experienced by individuals are anxiety and depression.

Mental Health Awareness week runs from the 10th - 16th of May with the aim to encourage the nation to talk about mental health.
This year's chosen theme is nature. Nature is all around us, but often we are so busy in our daily lives that we don't make time to connect with it. Nature can have a positive impact on both our physical and our mental health. Some of the benefits can include:
Improvement in mood

Reduced feeling of stress or anger

Help you to take time out and feel more relaxed

Improve your physical health by being more active

Improve your confidence and self-esteem

Improve you socially by meeting new connections




How did Fluid Branding get involved?
Our Employee Relations & Wellbeing Officer, Cat, set the #FluidFamily a 7-day wellbeing challenge. Throughout the week she posted content surrounding the day's challenge to help us with ideas, and encourage us to step away from our desks to connect with nature.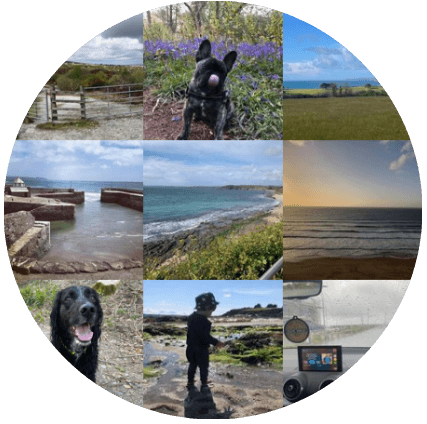 Other ways Fluid Family look after their

well-being

Cat's Cold Water Swimming

Like many, my mental health fluctuates on a daily basis. In October 2020, I was experiencing occasional panic attacks and was feeling anxious frequently. My friend suggested I try sea dipping with her to help with my anxiety. I have always been lucky enough to live next to the sea, but I have never been a big fan of going in it (I don't like jellyfish!). So, you can imagine I was full of excuses but after a while, the excuses were getting harder to think of and in November I decided to take the plunge and give it a go.

I got to the beach and my friend lent me her shorty wetsuit whilst she braved a swimming costume.
The sand was freezing; the air was cold, and I could instantly feel the panic inside me start to bubble away. What was I doing? I was about to go into the sea… in November. I entered the water and the cold hit me like a tonne of bricks. My mind and body started to panic, and I could feel an anxiety attack starting. My friend kept checking on me and helped me to focus on other things whilst I started to concentrate on the breathing techniques I had been taught. I was surrounded by the sound of other women and men enjoying the sea, screaming from the cold, but laughing and enjoying the experience. It instantly lifted me, and I began to forget the panic I was feeling and started to enjoy the waves crashing into me.

It took all day to warm up afterward, but my mind felt clearer, and my mood felt better. After going in more and more, I have noticed that my brain feels less foggy, and I have been having more good days than bad with my anxiety. If you live by the ocean or open water, there are many groups you can join to have a go at cold water swimming, these can usually be found via social media. Sometimes it isn't always possible to be able to do cold-water swimming/dipping where you live but you can still get the benefits of the cold water by using your shower!

Some of the benefits of cold water therapy are:
A natural high. Cold water swimming releases endorphins.

It's great for mindfulness and improves your circulation.

It reduces stress.

It boosts your immune system, energy levels, and mood.
Whilst the cold water can be a healer, it can also be dangerous. Before you try cold water swimming, make sure you do your research in terms of tide times, rips, how to enter the water safely and how to warm up afterward. Sea dipping is something I never thought I would or could do, but I am so glad I gave it a go. I love having that hour out of my day-to-day routine now to catch up with friends and get in the water. I never knew the sea could heal in the way that it does, and I am so pleased I have found a way to reconnect with Nature and witness the beauty of the ocean.
Give it a go, take the plunge!
Karen's Walking
Life's been a bit mental lately - and unlike some people who have embraced the whole lockdown and furlough time and upped their exercise game, I personally, have struggled massively with motivation!
I like to keep fit. It helps me sleep, it makes me feel great (afterward at least!) and it just feels good to know I'm doing something that's so good for me. But I've really struggled in the last year to make myself get up and out of the door for my usual run or HIIT session at home. I just can't seem to make myself do it. But instead of beating myself up about it, I decided to rethink things a little.
These days, I try to get up a few mornings a week and do a 30-minute pilates session or go for a half-hour, fast-paced walk, taking in some stunning scenery around a 2-mile loop from my front door. It's not much but it's enough to get the heart rate up, to take some deep, calming breaths of the fresh sea air, and it really lifts my mood to know I've started my day with positive energy. It may not be my usual intensity, but it's something, and that's good enough right now.

Amy & Gemma's HIIT Bootcamp
Amy and I took part in a 2 week online HIIT boot camp with a local fitness provider every morning from 7 am. It was tough but we loved the way it sets you up for the day, is so convenient and makes you feel really good! We will definitely be signing up for the next one!

Mental Health is important all year round
...not just one week. The COVID-19 pandemic has seen a high increase of stress and anxiety, not just across the UK, but across the world. It has lead to fear and loneliness whilst we try to make sense of the ever-changing situations in our lives. So how can you support your workforce in a time like this?
Have a look at Cat's blog post which focuses on helping mental health and well-being in the workplace.