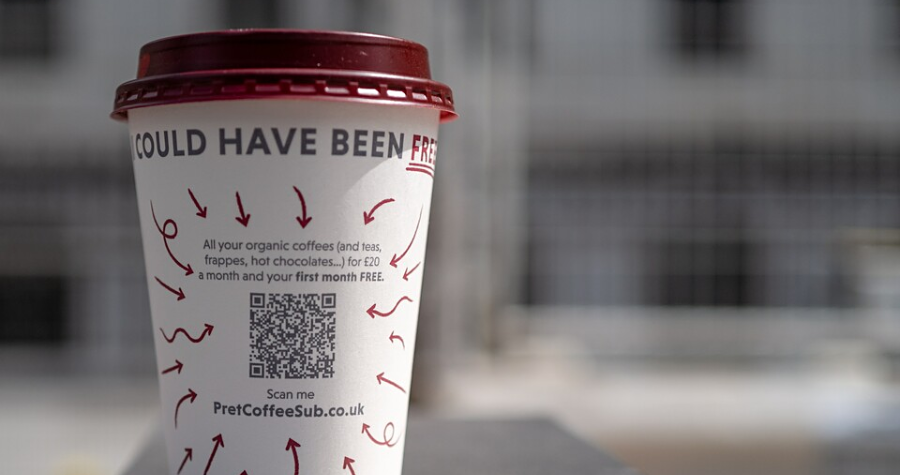 The short answer is yes. QR codes allow you to share relevant, useful data instantly, with thousands of people. What's not to love?
We've all seen them. The small grids of black and white squares. Since Covid and an increase in no-contact marketing, QR codes have become a lifesaver for brands that survive on social interaction. If you go into a restaurant, you'll more than likely be asked to scan a QR code to view their menu. In stores like IKEA, QR codes are now used for taking payments. A study has shown that in the US in 2020, 11 million households scanned a QR code.
But, what does this mean for the future of your merchandise marketing? We think QR codes have endless possibilities and will make your promotional merchandise more effective than ever.
QR codes are here to stay, and this is how you can get the most out of them with your merchandise.
What is a QR code?
A QR code, put simply, is the modern equivalent of a barcode.
QR stands for "Quick Response Code", and it earned its name by how quickly it allows you to access the data it's linked to. It was originally invented in 1994 by the Japanese automotive company Denso Wave. Its purpose: to track automotive parts.
QR codes have come a long way since then, with big brands using them in some pretty impressive marketing campaigns. They've gained momentum due to their ability to share data within seconds, all thanks to their unique design of tiny black-and-white squares.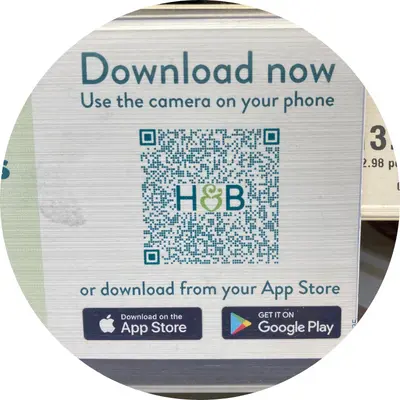 Why are QR codes so good?
QR codes are so good because they bridge the gap between the physical and digital. They share data quickly and easily. All you need is your smartphone camera or app to scan the code. That's it. No coding knowledge, no complicated sign-up forms. Just your phone.
They also offer the ability to share larger pieces of information instantly. From website links to videos, from shopping to password security. There's no limit to what you can share through direct marketing tactics using QR codes.
And they're so easy to make. Websites such as QRCode Monkey and Flowcode allow you to create your own unique QR code in seconds.
Static v.s dynamic QR codes: what's the difference?
QR codes can be broken down into two different types: static and dynamic. Which one is better depends on the media you want to share.
Static QR codes
Static QR codes are used for information that isn't going to change. A good example would be a link to your website. These don't expire, and when you've finalised your content, all your hard work is done!
Dynamic QR codes
They allow you to change the data linked to the code. This is because the information isn't ingrained into the code itself, but rather the URL that it's linked to. Restaurants often use dynamic QR codes for their menus, as they need to be updated regularly.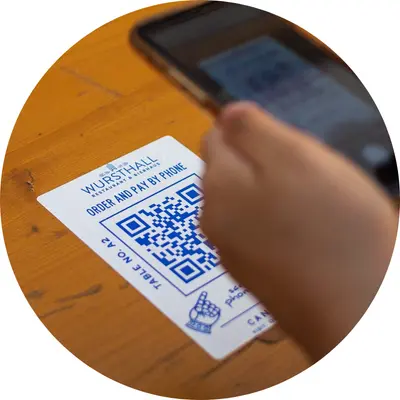 You can gather scanning metrics from dynamic QR codes, allowing you to see the time, location, and device used to scan your code.
11 reasons why you should use QR codes in your next merchandise campaign
QR codes are great at sharing relevant information fast. They'll no doubt make a great addition to your next merchandise campaign. Here are 11 reasons why we think you should be using them now.
1) They're super speedy
Instead of accessing your website manually by laboriously typing in your URL, customers can just scan your QR code and be taken straight to your site. No fuss. No hassle.
2) They're convenient
Because of their speed, QR codes add that next level of convenience to your campaign. Customers get their information fast, with no stress.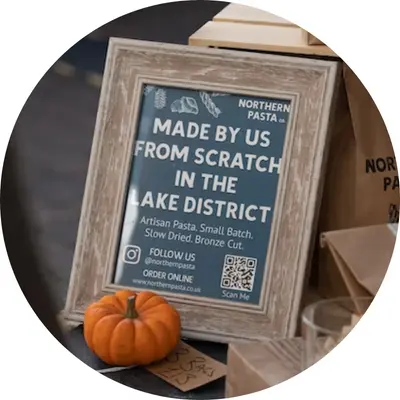 3) They convert
Probably the most important reason why you should be using QR codes in your campaigns: they convert. QR codes have a high conversion rate compared to traditional forms of advertising, with little to no extra effort on your part.
4) Multimedia possibilities
With a QR code, you're not limited to a character limit or static media. You can share videos, audio, images, chunky documents… anything you want. Your campaigns will become just that more dynamic thanks to QR codes.
5) Virtual stores
QR codes allow you to share a 'virtual store' easily. You can put a QR code anywhere - a billboard, a car door, a wall, and customers can scan and buy on the go. You'll never miss out on potential customers again.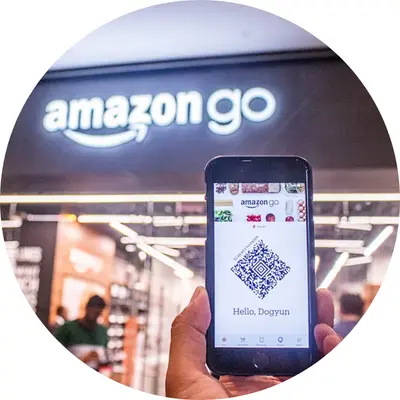 6) Dynamic CTA
An effective CTA (call-to-action) can make or break the success of a marketing campaign. QR codes are the ultimate CTA, as customers can't help but be engaged.

7) They catch your eye
By incorporating a QR code into your print media, customers are instantly intrigued by what lies behind it. QR codes share, and omit, information simultaneously. The hook to find out more is not easily ignored, which is great for your brand.

8) They're interactive
Capturing, and keeping, your audience's attention is the goal of a good marketing campaign, right? With QR codes, you're a step ahead because of their interactiveness - your audience's attention is instantly grabbed.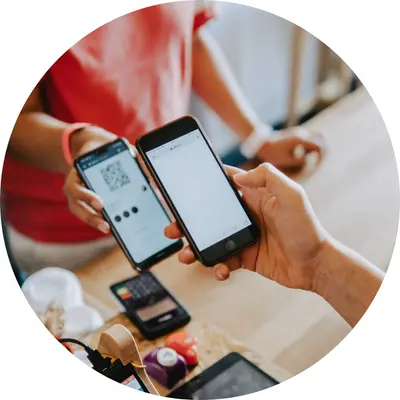 9) They're all about your brand
With dynamic QR codes, you'll be able to update your information frequently and easily. You'll be able to keep them relevant to each campaign, whilst making sure they're working hard for your brand.
10) They're accessible
Everyone can easily access a QR code. You just need your phone camera or a QR-scanning app, and you're good to go.
11) You're in control
What's ultimately the best feature of a QR code is that you're in control of the information. You can keep it fluid, changing it up when needed. You're in control of what people see and read, ensuring all media is up-to-date.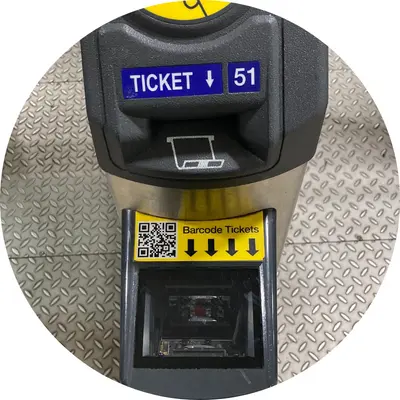 7 top brands that have used QR codes in recent campaigns
We're not the only ones who are loving QR codes at the moment. Here are some top brand marketing campaigns that have QR codes at the core of their success.
1) Cygames
When Cygames celebrated the anniversary of their video game 'Princess Connect Re: Drive', they used 1,500 drones to display characters from the game battling it out. After, the drones coordinated to form a massive QR code that viewers could scan to download the game to their phones.
2) L'Oreal
L'Oreal completely redefined the term 'try-before-you-buy'. Customers could virtually try on hundreds of L'Oreal Paris products by scanning QR codes.
3) Tesco
In their South Korean store, Tesco created their first ever virtual store called 'Shop on the Go'. This enabled Tescos to reach customers they had lost due to their lack of time to shop.
4) Heinz
We love it when big brand names divert their focus to sustainability. Like when Heinz implemented QR codes to promote their new environment-friendly packaging. The campaign was called "Join the Growing Movement", and if you scanned the QR code, it would direct you to an app where you can learn all about how to recycle your product's packaging and be more environmentally responsible.
5) Nestle
When household brands like Nestle and Google team up, you know the campaign's going to be good. Kit-Kat packets were printed with unique QR codes, which when scanned, took you to YouTube. A simple concept utilising their famous 'take a break' slogan. Genius.
6) Starbucks
If you're looking for an example where a big brand increased its sales by simply using QR codes, look no further than Starbucks. They incorporated a QR code in print ads and outdoor ads in major US cities, as well as introducing cashless mobile payments using QR codes. Now, 1 in 4 of their purchases is completed using a mobile device.
7) Klarna
Klarna is paving the way for making fashion more affordable, and more accessible. In their 'censored runway' campaign in Australia, instead of wearing outfits, models wore robes and a QR code. When scanned, their chosen outfit was revealed. This is a great example of how to merge the real and digital worlds.
6 examples of great QR code merchandise campaigns
QR codes aren't anything new, but we're only now exploring their full potential on merchandise. Check out 6 examples below of big brands implementing QR codes in their merchandise campaigns for fantastic results.
1) McDonald's packaging
Back in 2013, Mcdonald's launched their new packaging which included QR codes in the design. This made it easier for customers to find out the nutritional information of their meal, with Mcdonald's saying that its new packaging is also designed to communicate brand stories in an engaging and modern way.

2) Samuel's Adams' beer coasters
To promote the holiday season, Samuel Adams put QR codes on their foldable coasters, creating the ultimate interactive experience.

The coaster can be folded several ways to finally reveal the QR code, which when scanned takes the customer to receive a discount on Samuel Adams beer glasses. "The QR code is a great way to instantly connect people with smartphones to information", said Mike Vitamvas, a partner with Wall Printing Co., who helped design the coasters.
3) Rock the Vote QR code t-shirts
Rock the Vote is an American non-profit whose mission is to encourage young people to vote. In 2012, they launched t-shirts with QR codes on them with the aim of signing-up 1.5 million new voters. By wearing QR codes, they're maximising their reach amongst their target audience.
4) Aura Bora fridge magnets
To make the lives of their most engaged customers easier, Aura Bora sent out QR code fridge magnets. When scanned, customers are taken to their personalised refill shopping cart, automatically populated with their most recent purchases. This led to the brand increasing its repeat sales, and creating an effective touchpoint for loyal customers.

5) Smart pyjamas
Storytime has never been so fun! Back in 2016, Idaho-based Smart PJ's launched a new range of pyjamas that had colourful QR codes embedded in the design. When scanned, you're taken to one of 90 bedtime stories. It's time to enjoy the wonders of storytelling from the comfort of your phone.
6) Plaques in a Welsh town
Dubbed 'the world's first Wikipedia town', the ancient Welsh town of Monmouth has embraced the future by installing 1,000 QR code plaques around the city. These QR codes enable visitors to read relevant Wikipedia articles about the town whilst enjoying the area in real-time. History is now interactive!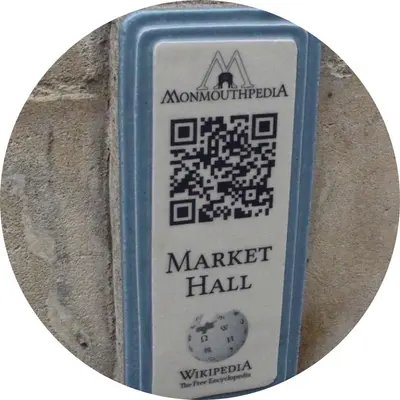 6 ways you can use QR codes in your next merchandise campaign
The key to getting the most out of your QR code is deciding its goal. What's its purpose? Is it to share more information about your brand? Or enhance your user experience? Narrowing that down will determine how successful your QR code campaign will be.
Here are a few ideas on how to get started with brainstorming how you can implement QR codes in your next merchandise campaign.
1) Business cards
QR codes have such great business card potential. Design a QR code that links to your website or profile for a sleek, professional look. We've got some other great business card ideas too if you're looking to up your business card game.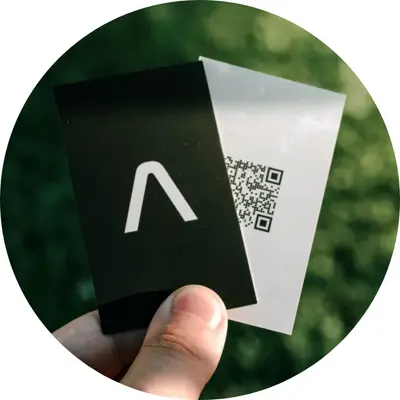 2) Clothing tags
Putting QR codes on clothing tags is a great way to share the environmental credentials of your clothing succinctly, without impacting the integrity of your design. Incorporate these into your next branded clothing order to add an extra edge to your campaign.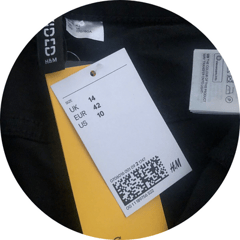 3) Notebooks
Include QR codes on the front or back of your branded notebook to ensure core company information isn't too far out of reach. Or, include a mini QR code on every page to share company details quickly and easily.
4) Tote bags
Everyone loves a tote bag. With a great branding area and potential to reach hundreds, if not thousands, of people whenever they're used, their reach potential is second to none. If you print a massive eye-catching QR code on a tote bag, you're sure to get a monumental amount of scans.
5) Gift boxes
If you're looking to implement QR codes in your next campaign, but don't want them on your actual merch, why not consider putting them on a gift box? They're a great solution to creating that extra bit of gifting magic (you can read more about that here), but they're also an excellent place to share more relevant information about your brand with clients.
6) Giveaways
Giveaways for events and conferences are one of the most iconic promotional merchandise campaigns around, with unlimited scope for brand reach and prospect potential. By including QR codes on your eco-friendly giveaways, you'll be able to share far more information about your brand that's going to last longer than any leaflet or flyer.


Welcome to the future of merchandise
There's no denying that QR codes are here to stay. With a 94% increase in QR interactions between 2018 and 2020, they're the future of marketing, let alone merchandise. By merging physical products with online content, you'll keep your brand in the top position by offering more to your clients. Change is inevitable, and we can't wait.
To find out what more branding potential we can offer, get in touch today.