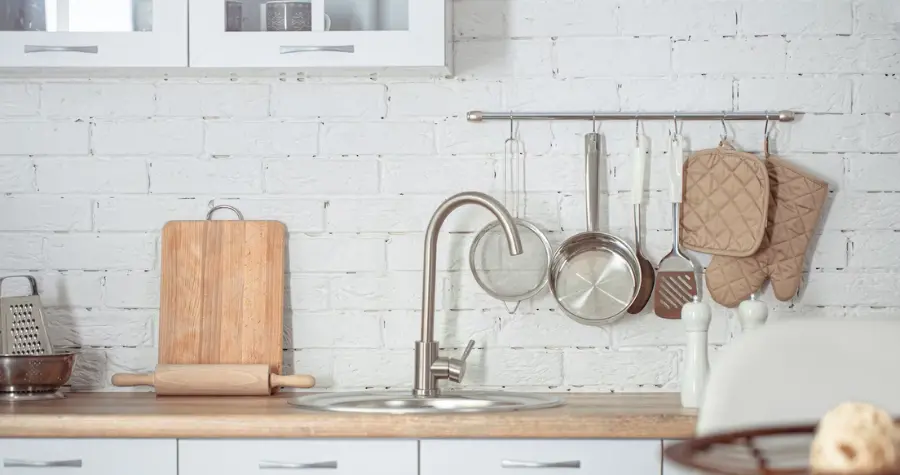 Sometimes, it's hard to make the best sustainable choices at home.
Tired from work, you can't always be bothered to take the recycling out, to check whether something can be recycled from the curbside or not, to splash out for the eco-friendly alternative when the usual one has always done you good, for cheaper.

It can be difficult to find the time or the energy to sit down and think, "Right, what changes can I make to be more sustainable?"

That's why we've done the hard work for you!

Here are 35 super simple sustainable swaps you can make at home right now. Pick and choose the ones that'll fit into your lifestyle best for the easiest start to your eco-journey.

And if you're looking for specific products that have a mighty positive impact, we've got some big brands perfect for bringing into your home, too.
35 super simple sustainable swaps you can make at home
Sustainable kitchen swaps
1. No more cling film
Did you know that on average, 745,000 miles of cling film is used by UK households in a year? That's enough to go around the planet x30 times AND that's just from the UK alone!

That's why cling film is so old school. There are now so many alternatives available that there's no more room for that sticky thin plastic in your dream sustainable kitchen. From beeswax wraps to reusable silicon sandwich bags, it's time to pick your favourite cling film replacement.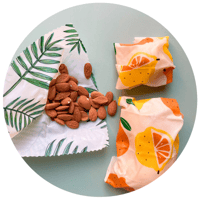 2. Laundry swaps
Have you ever thought about how eco-friendly your laundry detergent is? If you're looking for a more sustainable swap for washing your clothes, they're some fabulous alternatives available which are way better for the planet. Take smol, for example.
3. Change up your milk
Swapping your dairy milk for a plant-based alternative is a super simple way to be more sustainable.

When it comes to producing your glass of dairy milk compared to a plant-based one, an astonishing x3 times more emissions (0.63 kg vs. 0.2kg for soy milk) are produced compared to soy milk.

Or, if you want to stick with dairy, why not opt for a delivery from your local milkman? That way, you can get your milk in glass bottles that are reused and easily recyclable!
4. Shop at zero-waste refill shops
In your regular weekly shop, just how much plastic and non-recyclables do you end up buying? If you're shocked at what you find, you may want to start shopping at your local zero-waste refill shop. Just bring your own reusable container and fill up on all your essentials, at no extra cost to the planet.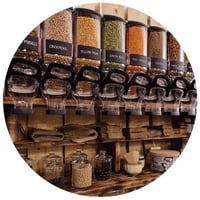 5. Reusable cotton shoppers
Ditch the plastic bags and never be without a shopper again - we're big fans of a cotton shopper when doing the weekly shop.
6. Buy wonky veg and lone bananas
40% of food goes to waste in the UK, so buying the wonky veg and lone bananas will prevent these usually unwanted veggies from going to waste.
7. Compostable sponges
Sponges are a kitchen necessity, so opt for ones that can decompose rather than last forever.
8. Freezing vegetables
Veggies past their best count for a lot of household food waste, that's why freezing your fruit and veg as soon as you purchase them could be an eco-lifesaver.
9. Batch cook
Ditch the unrecyclable takeaway packaging and wasted food by batch cooking at the weekend.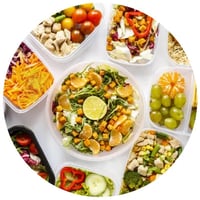 10. Compostable packaging
Try and pick products with compostable packaging to minimise your kitchen waste.
11. Recycling research
It's always good to know what your local recycling centre does and doesn't accept. Try and favour products that can be recycled in your local curbside recycling collection for ease.

12. Buy glass
If you can choose between foods in plastic or glass packaging, always opt for glass. Way more easily recyclable than plastic, plus it's reusable. You really can't have too many glass jars!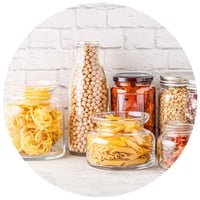 An eco-friendly living room
13. Open your windows
With summer welcoming the warmer weather, sometimes it can be all too tempting to put the aircon on to cool your room fast. Instead, why not open your windows and let that fresh air flow?

14. Shop vintage
Instead of buying new, have fun exploring antique markets and vintage shops for unique secondhand pieces. Facebook Marketplace is great for finding some real treasures.

15. Blankets
When the temperature starts to get chilly, instead of reaching for the thermostat, reach for a blanket instead.

Read more: 13 cosy merchandise ideas to get you through winter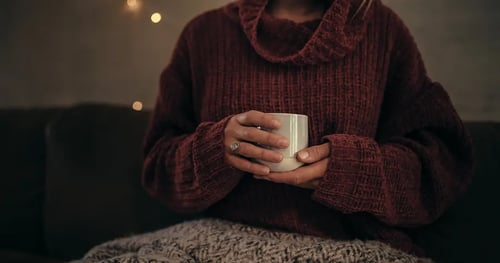 The best sustainable bathroom swaps
16. Add a recycling bin to your bathroom
This has to be one of the best suggestions! There are so many items in your bathroom that can be recycled, but most of the time it's probably easier just to throw them in the bin rather than the recycling. By having a dedicated recycling bin in your bathroom, you're sure to recycle more!
17. Sustainable floss
Normal floss is unfortunately non-recyclable and non-biodegradable. However, there are quite a few alternatives available that'll keep your teeth squeaky clean without harming the environment.

18. Shampoo bars
Shampoo bottles are unnecessary now that products like shampoo bars are available. No wasteful plastic bottles. No unrecyclable packaging. Just, shampoo.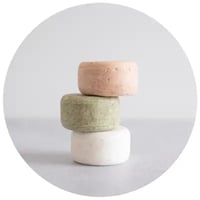 19. Toilet paper
Save the trees and opt for bamboo toilet paper. It's 100% recyclable and so much more eco-friendly than traditional paper.

20. Reusable cotton pads and flannels
Swap your cotton pads for reusable bamboo ones and flannels to minimise the single-use items in your bathroom.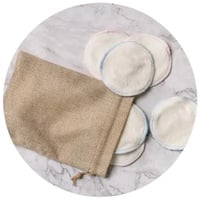 A sustainable study guide
21. Bamboo pens
Bamboo is a great alternative to plastic as it's easily renewable.
22. Cork notebook
Swap out your paper notebook for a sustainable cork one for your go-to home office notebook.
23. Turn off and unplug
Instead of leaving your computer on standby 24/7, turn it off and unplug it to save yourself from skyrocketing your electricity bill.
24. Eco coaster
Keep your desk spick and span with a wooden coaster.
Read more: Our favourite UK-made merch: office essentials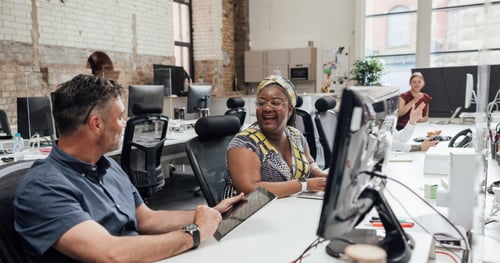 Eco-friendly bedroom favourites
25. Bamboo bed linen
Replace your synthetic sheets with a set of lovely, breathable bamboo ones! Perfect for summer and winter, they'll last longer than your old sheets and are naturally hypoallergenic. Get a good night's rest with bamboo bed linen.
26. LED lightbulbs
Fed up with replacing your lightbulbs every month? Swap them out for some LED ones. They'll last longer and use less electricity, plus they'll lower the amount of waste produced by your home.

27. Shop from sustainable fashion brands
It's time to fill your wardrobe with sustainable fashion! Be it brands that put the planet first, or secondhand finds from your local charity shop. It's time to banish fast fashion from your wardrobe.
Read more: You'll never believe what these eco brands are doing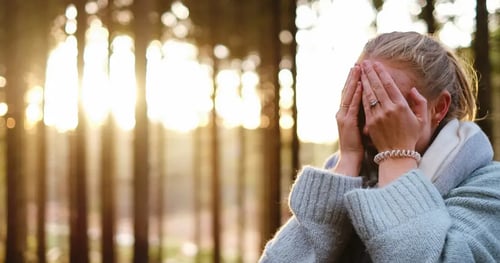 Green garden saviours
28. Grow your own
What better way to lower your carbon footprint, your shopping bill AND your food waste in one swoop than by growing your own? From potatoes to carrots, tomatoes to broccoli, there's a whole array of goodies you can grow at home, whatever your outdoor space. Even if you don't have a garden, windowsills are the perfect warm space for growing some delicious treats.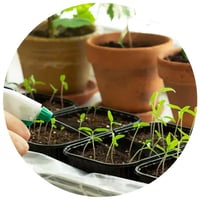 29. Create a compost bin
To lower your food waste, why not create a compost bin in your garden? It's perfect for vegetable scraps, egg shells and old toilet rolls, plus any compostable packaging from your weekly shop. And bonus: if you grow your own veggies, the compost is great for giving them a boost of nutrients.

30. Reuse old water
Reusing old water from your washing-up bowl or collected rainwater for watering your plants is a great way to lower your water bill as well as your water usage.
Sustainable travel must-haves
31. Travel coffee cup
We should all know the harm single-use coffee cups do to the environment now, so one of the easiest ways to make a difference when out and about is to carry your very own travel coffee cup. We love this Circular Now cup for that extra eco-love.
Read more: Here's why we love Circular & Co.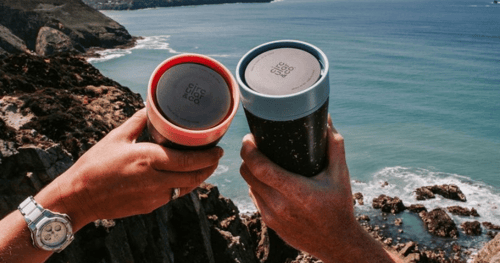 32. Reusable water bottles
Staying hydrated is paramount for a healthy body and mind, but what isn't great is drinking water from single-use plastic bottles. Make sure you've always got a reusable water bottle to stop yourself from reaching for a plastic bottle when thirsty. And you can't go wrong with an Ocean Bottle.

Read more: Here's why we love Ocean Bottle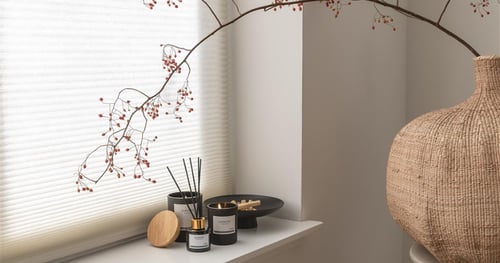 33. Lunchboxes
Meal Deals are great, but there's no denying that the waste that comes with them isn't ideal. That's why prepping your lunch the night before and taking it to work in a reusable lunchbox is perfect for being more eco-conscious.
34. Carry an eco umbrella
It's always handy to have an umbrella stored away for, well, a rainy day (especially in the UK!). Making sure it's as sustainable as possible is great when it comes to an everyday essential. Our favourite umbrella has bamboo fixtures and the canopy is made from recycled plastics.
35. Powerbank
When you need to charge your phone fast, a solar-powered powerbank is an eco-favourite.
Read more: 14 sustainable giveaways to get REALLY excited about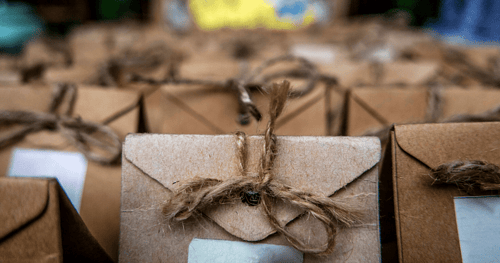 Sustainable swaps for your merchandise
Making sustainable swaps at home and in the office has never been so easy, and we've got everything you need to get started today.
Check out our favourite products with a positive impact to start your sustainability journey, or get in touch for your free consultation with one of our Merchandise Consultants.