The most popular promotional merchandise trend of the year: branded little luxuries.

Natasha Ithildin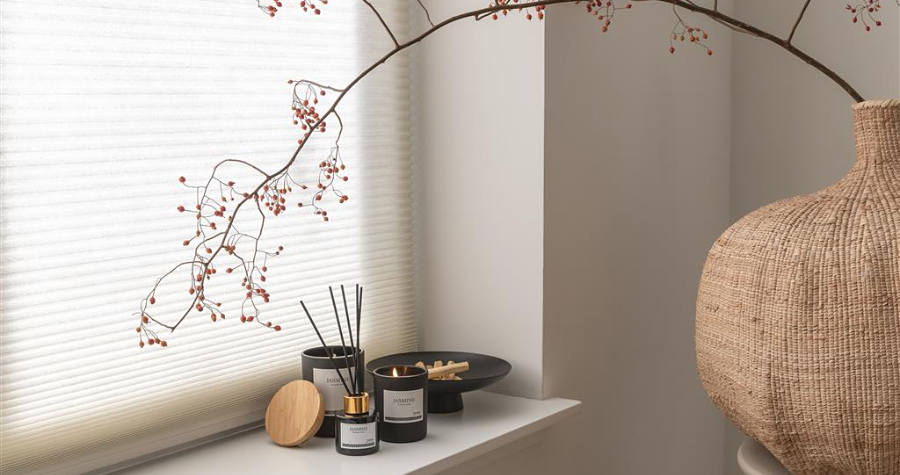 Treat yourself (and your client!) to one of the most popular promotional merchandise trends of the year: branded little luxuries.
With the Cost of Living Crisis and a potential recession on the horizon, finding those little pick-me-ups that get you through the day are more important now than ever.

That's why this year's top merchandise trend is branded luxuries that don't cost a fortune. That have that instant brand impact.

And we love this trend. Who wouldn't love scattering miniature moments of joy throughout your day?! The gifts below are perfect for elevating any gifting campaign to the next level.
Fragrance
Nothing says 'treat' like a new room fragrance. An absolute luxury in our modern routines, stepping into a room that smells amazing is like stepping into peace and tranquillity itself.
With scent, you can create an illusion of a relaxing spa retreat, reminisce about a past holiday or remember a moment that brought pure joy. Scent and memory are closely linked, so make new, lasting memories by giving the gift of soothing room scents.
Diffuser
If you want the scent of a candle without the hassle, a diffuser is perfect for creating that elegant ambiance. The fragrance sticks give a wonderful subtle jasmine scent and are packed in a lovely gift box.
Candles
Nothing creates cosiness and tranquillity than the gentle flicker of a candle. This one, in its elegant jar with a bamboo lid, feels and looks luxurious in any room. Again, with that subtle jasmine scent, it transforms any room into a zen paradise.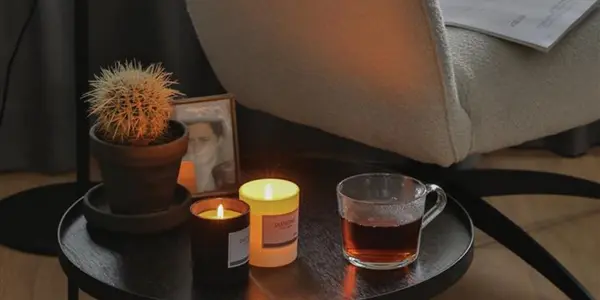 Home gifts
With returning to the office, or even hybrid working, our homes can feel a bit neglected in the colder months. However, this is the perfect time to bring some life back into your home. We love the below items for making your home feel warm and snug when it's blustery and cold outside.
Blanket
Imagine, it's cold outside and the rain is pelting against your windows. It's dark and you've got a fire lit. You snuggle up with your favourite book and a cup of soothing tea. But, don't forget *this* luxurious blanket.
Made from 78% OEKO-TEX-certified cotton (produced without harmful substances or dyes) and 22% recycled cotton, it's super soft and silky to the touch. Bonus: it's also easy to clean (making it perfect for red wine lovers).
Also, each blanket saves 1409.2 litres of water and because it's part of our Impact collection, 2% of the proceeds of each blanket sold will be donated to Water.org.
Headphones
Listen to your favourite podcast or Spotify playlist to de-stress after a hectic day. These headphones have clear acoustics and look fantastic.
Crafted out of luxurious materials with a 250 mAh battery means they're super comfortable and allow you to enjoy up to 8 hours of play. Not just that, but with a built-in microphone to answer calls, they're the perfect transitional gift for work and play.
Packed into a luxury gift box, these headphones will make a superb winter gift.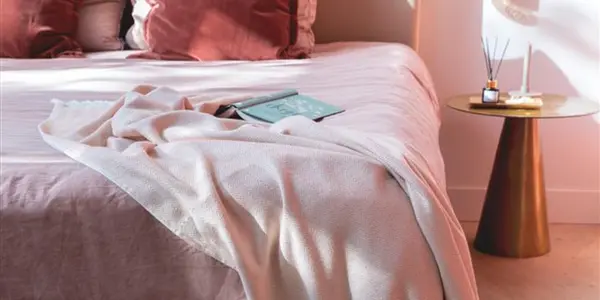 Self-care moments
The best gift you could give yourself and others is self-care. With the fast-paced lives we lead, not to mention the stress of everything that's going on, little treats that make us take a breath and look inward are exactly what we all need right now.
Wellness Journal
This Wellness Journal has become a firm favourite in the office. It's been developed as a tool to encourage emotional well-being in the workplace, plus to help you find that balance between home & work life. We find the self-reflection pages really useful in tracking our moods throughout the week, as well as the dotted grid pages allowing you to completely personalise the notebook to suit your needs.
The cover is made from recycled post-industrial coffee cup waste, with a luxuriously soft finish. The white-lined paper is also made from 100% recycled post-consumer waste which means this is a great notebook for promoting your eco-credentials, too.
Available in a variety of colours and elegant finishes, you can completely customise this journal, making it the perfect feel-good gift.
A really nice mug
Taking the time to sit and have a 5-minute break is sometimes all you need to recharge. For that very reason, you really cannot beat a nice new mug. We love this ceramic one with an unglazed base. It's stylish, modern and unique, making it the perfect gift this winter.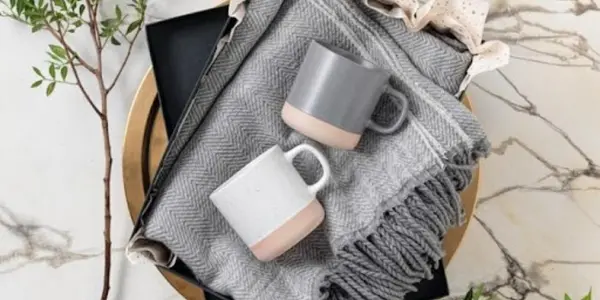 Edible treats
Sometimes, the only luxury you're craving is the sweet taste of your favourite chocolate bar.

With big brand names building whole reputations on this delectable treat, it's no wonder these melt-in-the-mouth moments are our favourite way to bring a little luxury into our lives.

Chocolate bar
Treat your clients to their very own personalised chocolate bar. You can fully customise the wrapper, and with it being thin, these make an amazing postal gift for the winter break.

Chocolate truffles
If you want pure, chocolate luxury, then look no further than our large selection box of 25 super smooth, cocoa-rich chocolate truffles. This selection box is a real step up from your standard box of chocolates. Each chocolate truffle is handmade with the finest cocoa beans and selected flavours and fillings that everyone is sure to love.

Flavours include:

Milk chocolate cappuccino cream

Dark chocolate raspberry

Dreamy with our creamy vanilla
Plus more! With customisable packaging and a personalised note, these chocolate truffles are the embodiment of richness.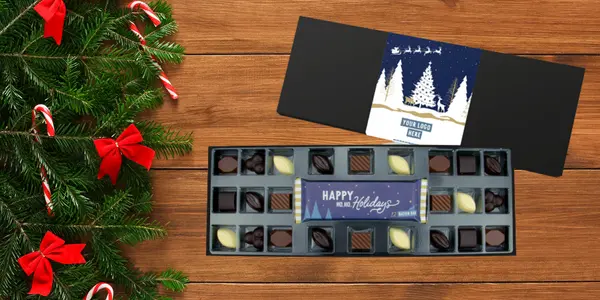 Thoughtful gifts
Everyone loves a gift that has that little extra thought behind it. Be it a book you've always wanted to read, or a gift someone bought especially just for you.
With branded merch, this personal touch is easy to achieve. Below are a few ideas for our favourite thoughtful gifts.
Pen
We love this Parker IM pen for a luxurious, personal gift. The sleek tapered shape pairs seamlessly with innovative designs to become a beautiful pen. The nib is made from durable stainless steel and shaped to provide the optimal writing angle. It's the perfect gift for the writer in your life.
Circular bottle
We We can't get over how premium this bottle is. Made from 92% single-use bottles, the Circular Bottle is a bottle you'd splash out on for that extra special gift. It has a 10-year lifespan and is 100% recyclable at the end of its life. The Circular Bottle is a leader in next-generation sustainability. You can read more about why we love them here.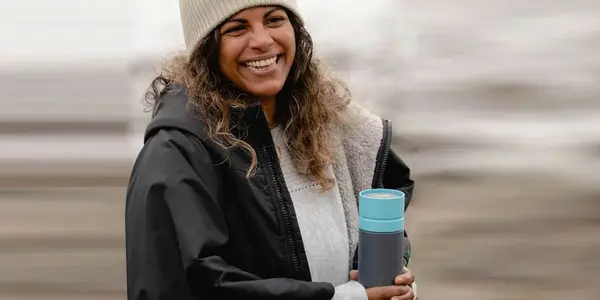 Life's little luxuries
All these merchandise ideas are perfect for your next marketing strategy, be it an exciting direct mail marketing campaign, or new starter packs. Gifts that are thoughtful, luxurious, and heartwarming will make your brand stand out, as well as share a little bit of daily cheer!
For more gifting ideas, check out our favourite eco-friendly branded gift ideas, or our secrets for gifting success? Also, our best-sellers page is a great resource for finding our most popular gifts. Fill in the form below and chat with your merchandise consultant today!