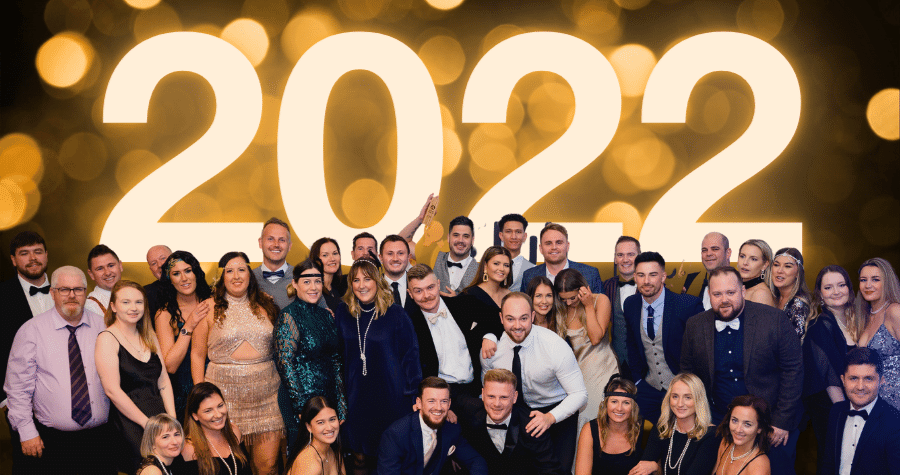 Let's celebrate the end of 2022 together, by looking over all the amazing things we've achieved this year, and saying a big thank you, to you, too!
For us, 2022 has been all about our vision of Meaningful Merchandise and Exceptional People. We've reached new milestones and won some amazing awards. We've made a real difference, together.
And that's because 2022 has been our best year yet. From working with suppliers that help us make a real impact in the promotional merchandise industry, to our wonderful team and fantastic clients; 2022 has really allowed us to be the best we can be.
And we're only going from strength to strength in anticipation of 2023.
That's why we wanted to say a big thank you, to you. We wanted to show you the 12 most amazing things you helped us achieve in 2022 through working with us, so we can end the year celebrating together.
We hope these achievements put a spring in your step for 2023. We can't wait to see where your venture leads next, and we can't wait to help you make it the best yet.
12 amazing goals you helped us achieve in 2022
From awards to power banks to planting many, many trees: here are 12 amazing things you helped us to achieve in 2022.
1) January:

we won the Platinum Trusted Service Award 2022

Without your amazing feedback, we would never have started off the year on such a positive note by winning the Platinum Trusted Service Award 2022 with Feefo.
This is the 7th year in a row that we've been awarded the highest level of trusted service, and we couldn't be more delighted!
2) February:

we partnered with Power a Life

In February, we partnered with Power a Life to help gift light to African school children who live off-grid. With many not having a single source of light at home, doing their homework after the sun sets is not only difficult, it's impossible.
However, through your purchases of x 1 PAL power-charging products in 2022, Power a Life has been able to gift x 470 light sources to these communities. We would estimate the total number of people impacted, by the time we count mum, dad brothers, and sister to be around 2,000 people - amazing!
By choosing the Power a Life products, you helped children increase from a 19% class average score to a whopping 56%, and test scores tripled overall.
Power a Life gift light, but you make it happen.
3) March:

we launched our #BetterBusiness campaign

March saw us launch our #BetterBusiness campaign, where we encouraged businesses to make positive pledges during #BCorpMonth.
We wanted everyone to get thinking and talking about the small changes we could adopt to make an impact. We were held accountable by announcing our positive pledges openly, helping us stick to our goals.
Ocean Bottle was one brand that made a positive pledge at the beginning of the year, and we caught up with them to see how they were getting on. Last year, they pledged to collect 7 billion bottles by 2025, and they're well on their way to achieving this goal. They recently reached a massive milestone of collecting 7 million kgs of ocean-bound plastic which is the equivalent of 636 million plastic bottles! They also took part in Cop27, where they made some serious waves over the week, as well as launched their OceanSubs program, which aims to engage and educate companies on their sustainability, with how they can do better. Amazing work, Ocean Bottle!
What's your positive pledge for next year?
4) April:

we won Distributor of the Year

April saw us win another fantastic award: the BPMA's Distributor of the Year award in the £5m plus category!
The award is voted on by suppliers in the BPMA and it highlights the strong, mutually beneficial partnerships that Fluid has forged with their suppliers, or 'Friends', as we refer to them. Without you, we wouldn't have had the opportunity to build such fantastic relationships!
5) May:

Zoe Grant joined the team

In May, Zoe joined our team as a dedicated sustainability assistant, and we couldn't have been more excited!
It's great to have Zoe on board to help us achieve bigger and better things when using business as a force for good. She's helping us help you make better, more informed choices when it comes to merchandise.
6) June:

we celebrated 15 years at the BPMA

We love being part of the BPMA, and in June, we celebrated our 15 years of being a BPMA member.
Aaron Loveridge, Operations Director of Fluid comments, "Being a BPMA charter member is very important to us, especially as we continue to grow as a business. We're really pleased the BPMA has decided to commemorate our 15 years of membership."
Being a BPMA member means that we can offer you the best possible service, with quality assurance, trust, and transparency. Read more about what it means to be a BPMA Charter Distributor.
7) July:

we launched Merchella

With the start of summer came the highly anticipated re-opening of many beloved festivals. Having suffered the last few years with closures or restrictive regulations, this year was the first year that many festivals could relax and let their hair down.
We marked the occasion by launching our #Merchella campaign, and through your fantastic events, you celebrated the summer in style.
8) August:

we celebrated o

ur 'Anniversa-tree'

Without you, we could never have been able to celebrate our first 'Anniversa-tree'!
This August, we celebrated one year of our #ATreeWithEveryOrder campaign, which is where we plant one tree for every one of your orders.
Check out what we achieved in a year here.
9) September:

we partnered with Circular & Co.

September saw us partner with Circular & Co. to bring you one of the best sustainable coffee cups on the market.
Thanks to you and your purchases, since the start of 2021, you've diverted 2.7 tonnes of single-use paper cups from landfill.
This is based on 23,286 sales from 2021-present with each Circular Cup containing 6 single-use paper cups. Amazing!
10) October:

we planted over 50,000 trees

In October, we reached a huge milestone in our #ATreeWithEveryOrder campaign. In just over a year, we've managed to plant over 50,000 trees! We certainly couldn't have done it without you.
By working together, we've offset 1,340.81 tonnes of CO2 in just over a year. That's the same as 1,029 long-haul flights or 3,326,550 miles driven in a car.
Check out our Fluid forest to see what else your orders with us have achieved.
11) November:

we successfully recertified as a B Corp

Following a complex evaluation and verification process across the four areas of Governance, Workers, Environment, and Customers, we were delighted to be re-awarded with our B Corp status in November.
This is a big deal for us and one of our biggest achievements to date, and we're so happy to be able to share this with you!
Check out 10 reasons why we think you'll love this news, for more information.
12) December:

the launch of our new brand film

To wrap up 2022, we have some exciting news to share: we've launched a new brand film, and you're in it! Not literally, of course, but you're at the core of everything we do. From wanting to do more and be better, everything we do is to help you be the best you can be.
Check it out here. We can't wait to hear what you think.
A big thank you to you
It goes without saying, but we couldn't have achieved any of the above without you.
From planting 50,000 trees for every one of your orders, to winning the Platinum Trusted Service Award 2022 back in January. You are why we love what we do because it was never 'just merchandise' with us.
And top it all off, we've just found out we've donated a huge
£34,221

!

What an amazing note to end the year on.

We can't wait to see what 2023 brings for us both, but we know that by sticking together, we'll achieve amazing things.